SOUTH DEVON RAILWAY's Carriage and Wagon Department
The South Devon Railway's Carriage and Wagon Department is now part of South Devon Railway Engineering and has a small dedicated band of volunteers and staff who not only maintain our fleet of historic vehicles but also carry out rebuilds and conversions as necessary to allow the South Devon Railway to meet the changing needs of our passengers.
Previously in C&W:
GWR TK 536.
This coach was restored back to its 1930s GWR condition for its owners; the Great Western Society, Didcot.
Currently in the workshop:
BR MkI SO 4785 this has returned into C&W for completion of its lengthy restoration. All being well it will return to service during the summer of 2017.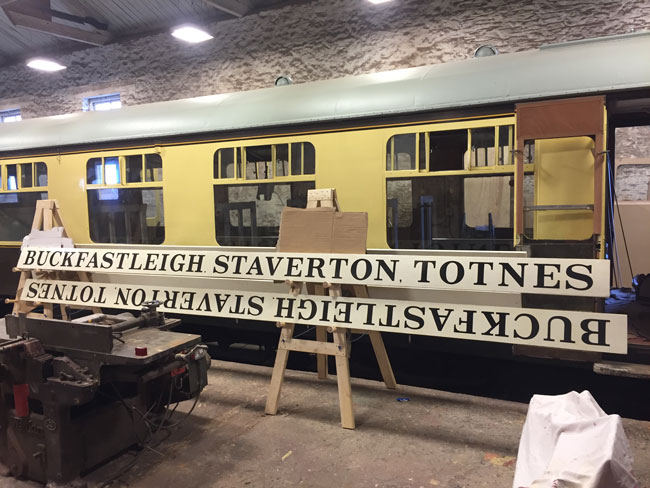 Carriage roof boards; 2 new for 1295 and 2 repainted for 276 ( which are nearly 20 years old )
Photo © GBishop 2017
W55000 has been in C&W for a repaint having spent a year in a grey undercoat. It is now in BR Green with small yellow ends.
4785 will be replaced by either BR MkI SO 4805 or W228. 4805 has several componenmts borrowed from 4785 so these will be recovered and replacements fabricated.
| | | |
| --- | --- | --- |
| | © South Devon Railway 2009-16 | |
The South Devon Railway Trust is Registered Charity: 800299
and a Limited Liability Company Number 1157099 registered in England