SOUTH DEVON RAILWAY – Buckfastleigh Station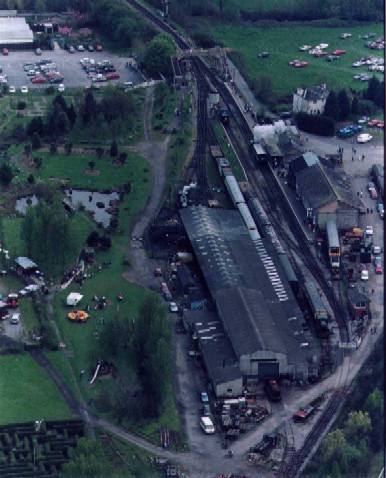 Aerial shot of Buckfastleigh station Site
GROUNDS -- under Nick Wakeling's capable direction the grounds go from strength to strength with a good team of regular volunteers and many positive comments from visitors and staff alike. Whilst the take up of his garden tours on National Heritage Open Days was disappointing, I am advised that his offering was extremely interesting and worthwhile. All questions were fully answered and he displayed real enthusiasm for all his projects.
Nick Wakeling working on the wartime garden fence
Nick Wakeling and Dave Hookins
Nick Wakeling and Barbara Parratt
Recently a chance meeting on the platform with a resident of Buckfastleigh and previously the parks manager for a local authority, who is now a Britain in Bloom judge said that the parks and grounds at Buckfastleigh Station have come on so much since Nick took up his post. They are a real credit and that we should enter them into appropriate competitions as they are sure to win prizes and awards. This will be taken up as another strand in our ever diversifying offering!