Ex BR(W) Coach 1917
BR Standard Mark 1 Buffet 1917

Photo &copy M. Comben 2009
Coach 1917 was built as Swindon as a BR Mk1 buffet with full galley and a servery. The galley was gas fired and no longer meets the relevant food standards so has been removed along with a large refrigerator which we no longer use.
The bottle cooler in the servery has been retained.
Following removal of the kitchen equipment from the Totnes end of the coach, refurbishment work has been in full swing. The immediate aim is to create another area which is accessible for wheelchairs at this end of the coach, using the one-and-a-half doors already in place. After removal of the redundant items the floor was found to be in poor condition, with the cross-bearers badly corroded. The old ones have now been replaced, and this week new wooden floor panels were installed.
New bearers have been welded in place by 04 November
Dave Watkin fixes new floor panels on 06 November
Dave Watkin examining the state of the floor on 21 October
Dave Watkin fixes new floor panels on 06 November
21 October buffet car 1917 is bathed in the brilliant glow from Carriage & Wagon's new lights

Photo &copy J. Brodribb 2013
Update: 25th January 2014
The coach is now starting to receive external painting. Photos show the Buckfastleigh platform side, and Dave Watkin masking up the other side for painting. Inside, the new panelling and ceiling on the Totnes-end saloon are taking shape, and Mike Harris works on the framework for the remaining ceiling panels.
A start has been made on painting the Buckfastleigh side carmine and cream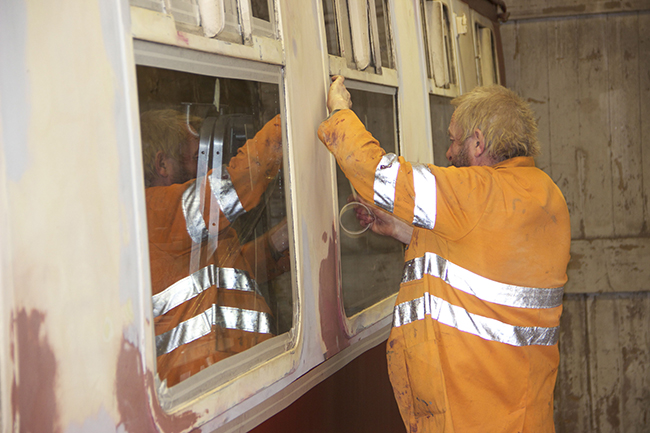 Meanwhile Dave Watkin masks up the Staverton side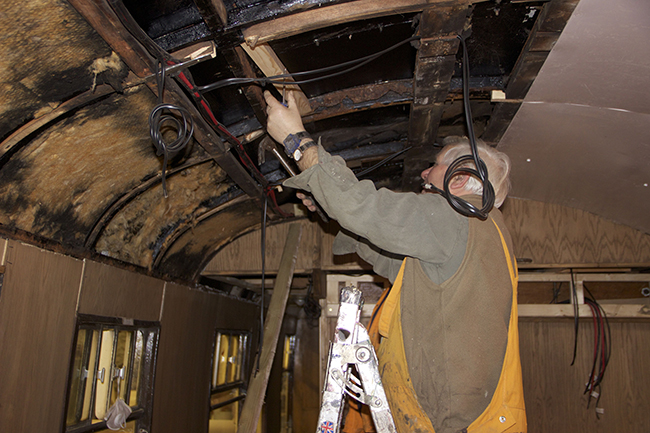 Mike Harris works on replacing the ceiling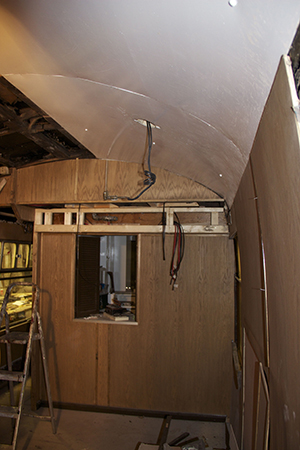 Progress can be seen inside the coach too.
Photo &copy J. Brodribb 2013
Update: 30th March 2014
W1917 was outshopped from Carriage and Wagon on 25th March 2014 but still needs to visit SDRE in "A" shop before re-entering service. The coach is seen basking in the sun in the yard at Buckfastleigh on 30th March 2014.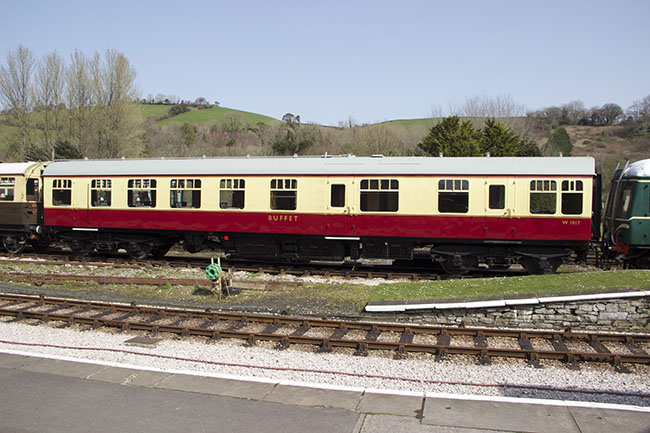 1917 stands in the sun awaiting a visit to SDRE in "A" shop
Photo &copy J. Brodribb 2013