GWR Brake Third 6515
This coach was built by the Great Western Railway in its Swindon works to a Collet design as a compartmented brake third.
It was converted to work in permanent way trains and was rescued by the Worcester Locomotive Society for use at their Hereford site. When they had to move due to expansion of the Bulmers factory they brought it down to Devon.
It hasn't been restored, but rebuilt as an open third with accomodation for wheel chairs. Due to its design with large picture windows it makes a welcome change for wheel chair bound passengers who would otherwise have to travel in a luggage van.
As of about 2010 it has been out of service due to issues with the body as a result of the removal of the partitions and corridor prior to its arrival in Devon. It is in storage at Buckfastleigh.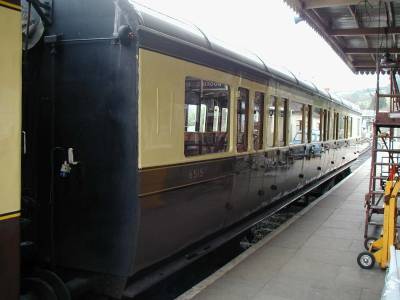 6515 at Buckfastleigh in 2003 (

Photo Mike Comben

)