SOUTH DEVON RAILWAY's GWR "Picnic Coach" 9346
FOR HIRE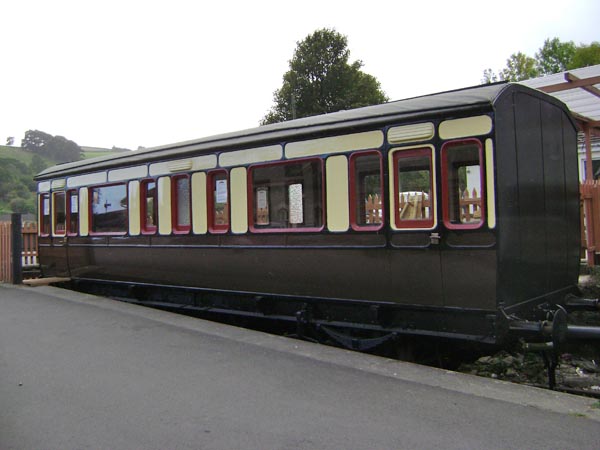 9346 stands ready and waiting at Buckfastleigh

© John Keohane 2009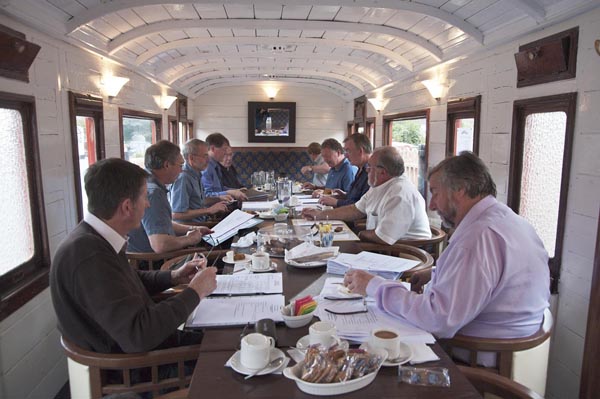 9346 used for a recent SDRT Board Meeting

© Sarah Anne Harvey 2009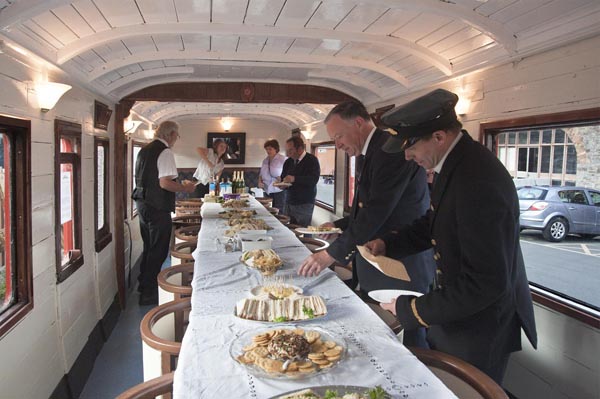 9346 used for the recent wake for Colin Sully

© Sarah Anne Harvey 2009
A brief history...
This Great Western Railway Picnic Saloon, No. 9346, was completed at Swindon Works on December 12th 1896 but it now has a new lease of life on the South Devon Railway as a an unusual and quirky meeting and exhibition venue.
After being retired from railway service, the coach was built into a small bungalow in the tiny village of Cove, near Tiverton and inhabited until 2001.
The bungalow was constructed in 1939 using the carriage as the living accommodation with a kitchen, bathroom and larder built on the outside at one end of the coach. Initially, it had a pitched roof with a verandah around it, but this was then altered to become entirely enclosed.
As a result, the vehicle remained in an incredibly good state of preservation. Internal alterations were few. As built, the coach had two seating compartments with bench seats around the sides. One of the two seating areas also had a central long mahogany table. Between the two seating areas was a toilet and washbasin.
The biggest repair was to replace part of the end of the carriage where the kitchen and bathroom were added as part of the alterations carried out during its 65 years as a house, including the construction of a chimney with fireplaces in both living areas.
Picnic coaches such as this example were hired by families or groups and added to trains, quite often more than one coach at a time, to go to the chosen location for a day trip.
The vehicle's recovery was led by SDR member Patrick Barter who became aware of its existence. After a few days of preparation, a team of SDRA members removed the pitched roof and chimney and then the body was lifted by crane onto a lorry and moved to Buckfastleigh.
A suitable wagon chassis was located, although this meant the coach became a four wheeler instead of a six wheeler as built. After some cosmetic external restoration, the coach became something of an enigma because it could never run in passenger service again.
So, a decision was taken in April 2009 by SDR management to give the coach a real purpose and future. Using many of the original features, it has been carefully and tastefully converted by the SDR's Carriage and Wagon team into an unusual but very useful venue for meetings, exhibitions and the like for up to 30 people.
The earlier news story with images of the coach as found and now.


Please note that this notice is in Adobe

®

"pdf" format, so you will need the Adobe

®

plug-in to read them. If you haven't got this yet then please click on the Adobe

®

icon above to download it.
(

Please Note the South Devon Railway is not responsible for any damage that may occur by downloading or using third party software

).