BR Class "04" D2246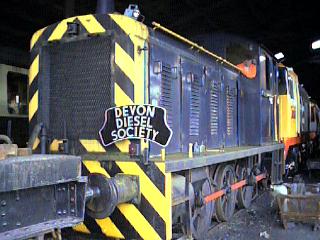 (D2246) 11216
Devon Diesel Society's 'new' diesel shunter - 0-6-0 204 bhp Class 04 Diesel Shunter No.11216 has arrived at Buckfastleigh today. Currently bearing a plain blue livery with no number it was latterly D2246 and was purchased by Devon Diesel Society from amongst the ubiquitous collection of Harry Needle. The engine will be returned to its original BR Black livery with cycling lion emblem with the 11216 number with which it was built.
11216 is expected to become a regular performer on works trains and yard shunting and will be a welcome addition to the diesel shunter fleet - most pw trip working and yard shunting is dealt with by the Yorkshire Engine Co 0-6-0 Diesel Electric 165 bhp shunter LO52. 11216 benefits from having vacuum braking which will be a great benefit when performing shunting with carriages.
Update: Sunday 14 January 2001
11216 has been returned to its earlier BR number D2246 and was successfully started at approximately 3.15pm on Wednesday 10th January when it was run for approximately 15 minutes. Since then members have been working on the loco and this afternoon (Sunday), at approximately 3.30pm, D2246 moved for the first time on SDR metals under her own power. The loco shunted 3 wagons and the 'Yorkie' (SDR Yorkshire Shunter LO52) around the yard/station and ran under her own power to be fuelled before returning back to the shed. No problems were reported by the loco crew.
Further restoration work to be carried out includes sorting out a starting circuit problem after which a start will be made on the cosmetic restoration back to original all over black as 11216. The loco is booked to make her public debut at the DDS AGM on 7th April.
For other diesel locomotives resident on the South Devon Railway please take a look at the South Devon Diesel Traction pages.
For more information on the Devon Diesel Society click here.

Please note that South Devon Diesel Traction and The Devon Diesel Society are not related to each other.