TURNING THE CLOCK BACK TO THE 1940'S AT THE SOUTH DEVON RAILWAY
10th and 11th JULY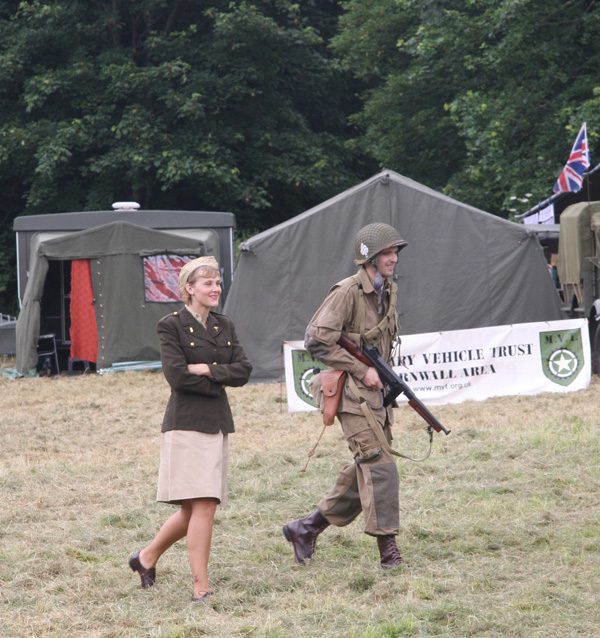 The clock will be turned back over sixty five years to the days of the Second World War when the South Devon Railway hosts its annual 1940's weekend on Saturday 10th & Sunday 11th July.
And a surprise visiting former GWR steam loco is expected, Mogul Class No. 5322, that saw actual active service in France during World War One. The engine is painted in the Railway Operating Department (ROD) khaki livery it carried at the time when it hauled trains loaded with supplies between Calais and the Front line. It will also be just the third time a Mogul has ever run on the South Devon line and enthusiasts are expected to flock to see the loco, which is owned by the Great Western Society.
Organised in conjunction with the Devon Branch of the Military Vehicle Trust, the event will feature over 50 historic military vehicles, such as jeeps, trucks and motor bikes from the 1939-45 wartime era, plus uniformed personnel and a complete modern field kitchen. The event aims to recreate some scenes of what life and railway transport was like in 1940's war torn Britain.
With features such as unexploded bombs and sandbags by the station buildings, armed sentries on guard, an ENSA concert group, plus expected armed military and goods trains, and even a wartime model railway layout at Staverton station, the event will allow visitors to step back in time to wartime Britain and maybe even beat the rationing system with a special on train cream tea!
Offering a visual feast of 20th Century military nostalgia - and with the South Devon Railway's steam trains acting as a fitting backdrop to complete the period atmosphere -- the field outside Buckfastleigh station will take on the appearance of a large military camp with uniformed soldiers in the West Country prior to D-Day with various displays and military dioramas.
Men, women and children turning up in 1940's period clothing will be made especially welcome, and all travellers on the railway should be given a wartime identity card. Military Police will be looking for a German spy who is known to be in the area, and patrolling the stations and trains to check identity cards as well as looking for downed German airmen or paratroops in disguise.
Plain clothes Police will also be looking to detect "Spivs" illegally offering restricted, stolen or rationed wartime goods such as watches, nylons and items of women's lingerie!
But, with the risk of Hitler's bombers still an ever present danger, the station will be decked out with blast tape on the windows and sandbags for protection, plus there'll be at least one unexploded bomb nearby to add to the wartime atmosphere and hopefully a bomb disposal team at work!
Period vehicles will be parked around the site and many staff will be wearing WWII uniforms and clothing. There'll even be a wartime vegetable allotment following the Government's wartime slogan: "Dig For Victory".
The two-day show will be an all steam train event featuring four former Great Western Railway (GWR) built locomotives: 5786, 5526, newly out-shopped 3205, and visiting engine 5322. Various different types of passenger and goods trains will be in use on both days operating to a special timetable.
In addition to a six-coach passenger service which will operate four round trips over the full line, there will also be four other two-coach passenger trains giving eight full return trains from Buckfastleigh on both days. There will also be goods and military special trains with shunting displays at some stations.
On each day, a demonstration goods train will operate from Staverton to Totnes and returning to Buckfastleigh in the morning, with another run in the early afternoon, plus two military trains. Throughout both days shunting demonstrations will take place at Buckfastleigh.
"Fewer and fewer people now remember what the 1940's were like, so we are hoping to recreate some of the everyday but memorable and nostalgic scenes from that era in conjunction with the Devon area Branch of the Military Vehicle Trust," said SDR General Manager Dick Wood.
"There will be something on site to attract most people who have an interest in British military history and steam trains, and we will be especially pleased to welcome Great Western Society loco No. 5322 to our line for the very first time in its earlier World War One khaki ROD livery as the star of the show. It promises to be a memorable event."
The Military Vehicle Trust is a charitable organisation of enthusiasts dedicated to the research, restoration, running and showing of historic military vehicles, as well as providing uniforms and equipment to set up living history displays.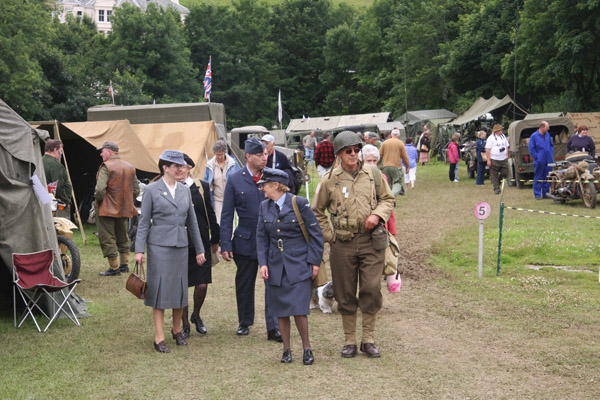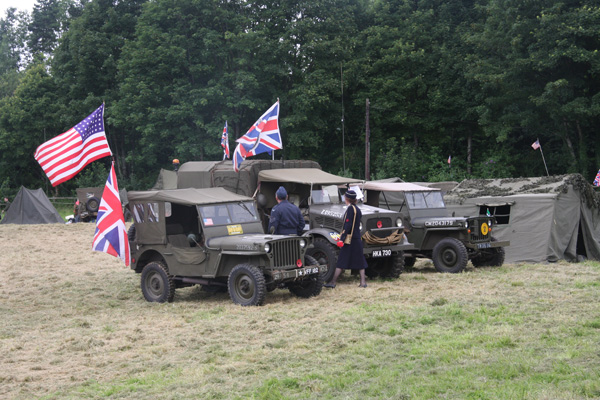 The Military Vehicle Trust actively supports the work of the Royal British Legion, SAAFA (Sailors, Army and Air Force Association) and the Normandy Veterans Association.
NOTES TO NEWS/PICTURE EDITOR
For further information about the "1940's weekend" or to arrange preview photography or filming on Friday 9th July, please contact SDR General Manager Dick Wood or Operations Manager John Haslam on (01364) 643536.
For more background information on locomotive 5322, including a piece written by a Great War veteran who saw the engine working in France in 1917/18, please click here. We can also supply copies of a photograph of a sister locomotive taken during the Great War in France.
Working Timetables for downloading and local printing.