SOUTH DEVON RAILWAY Transport Gala 2012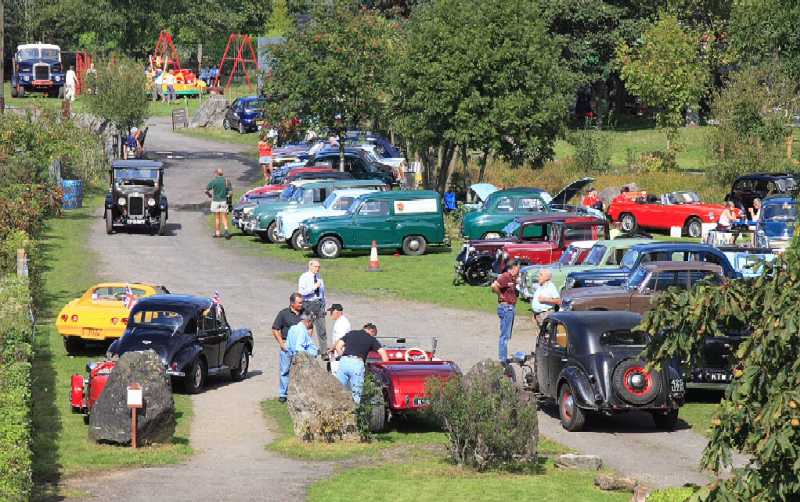 General view of an earlier transport gala
This event will feature both vintage steam and diesel locomotives operating a frequent passenger service in different formats.
We expect many vintage cars and other road transport vehicles to join in the event for public viewing.
This year we are again offering "Behind the Scenes" visits to parts of the railway that are not usually seen by the public. These include signal boxes at Buckfastleigh, our engineering works at Buckfastleigh, and demonstrations of Permanent Way (track) work at Staverton including our recently acquired tamper and TRAMM.
If you ever wanted to find out what happens to make a railway work, or better still, want to join in - do come along. And yes, we do need people to help in our museum - with stewarding, cataloguing, conservation and display - we look forward to seeing you.
Interested visitors can turn up at any of the stations - Buckfastleigh, Staverton or Totnes. Each of the station groups will be pleased to show them what is happening there.
At Buckfastleigh there will be a visitor centre in the picnic coach outside the museum where visitors will be able see what is happening. From here visitors can visit the museum, Buckfastleigh South signal box and, for the afternoons only, see behind the scenes in the South Devon Railway Engineering workshops. Visitors will be able to find out what goes on behind the scenes in the Signal & Telegraph department and the original signal box at Buckfastleigh, now known as "North 'box", will also be open on Sunday only.
There is no charge for any of the "Behind the Scenes" events, but normal train fares and entry to Totnes Rare Breeds Farm and Dartmoor Otters & Buckfast Butterflies will apply. Become a member and get members' discounts, of course!
For those travelling by car there is ample free parking at Buckfastleigh, just follow the "brown" signs from the A38 to the station.
For those travelling by train First Great Western can provide through tickets from local stations to the SDR via Totnes mainline station. Passengers have to transfer between the railways by walking along the footpath at Totnes station (approximately 450 metre).
Please note that the through tickets are also available from the local First Great Western guards as an "add on" to the normal Totnes railway ticket.
As part of the Heritage Transport Gala the South Devon Railway's former London Transport Routemaster 'bus RM1872 will be operating a rail replacement service to and from Ashburton (see Omnibus timetable for details).
On Friday 14th and in the evening of Saturday 15th the 'bus will be operating an excursion from Buckfastleigh Station to the Tradesman's Arms in Scorriton as part of their beer festival (Click here or see their website for festival details). For 'bus times please download the omnibus timetable below. Note: The Friday excursion starts at Newton Abbot mainline station before picking up at Buckfastleigh.
Timetables for downloading and local printing.
Note: Due to operational restrictions some items may not be available on the day and the South Devon Railway reserves the right to change any advertised vehicles without note.
Note: On Saturday 15th September the Devon stage of the "2012 Tour of Britain" cycle race passes Buckfastleigh railway station entrance on the B3380 from circa 13. 0hrs for about 1 hour and therefore access to the site will restricted to emergency vehicles only whilst the road is being used for the race. Please get to the railway early.


Please note that all these documents are in Adobe

®

"pdf" format, so you will need the Adobe

®

plug-in to read them. If you haven't got this yet then please click on the Adobe

®

icon above to download it.
(

The South Devon Railway is not responsible for any damage that may occur by downloading or using third party software

).


The South Devon Railway reserves the right to change train services without noice.




*

Opens in a new window.