WHY NOT TAKE ONE MORE JOURNEY WITH HALF FARE
TRAVEL ON THE SCENIC SOUTH DEVON RAILWAY ?
Saturday 1

st

& Sunday 2

nd

November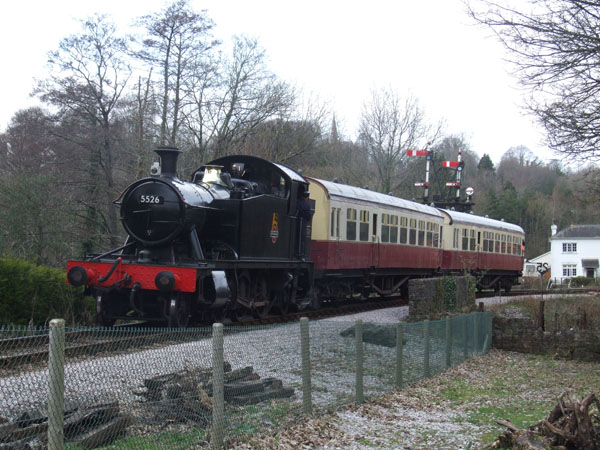 5526 with auto. Photo © Ben Warren 2011.
Finish the season with a weekend of half price travel.
The Railway's Routemaster 'bus will return to the Railway again running a railway replacement service to Ashburton via Buckfast Abbey and return.
The route will be from Buckfastleigh Station to Buckfast Abbey then up the A38 Expressway to the top end of Ashburton then down to the Bull Ring 'bus stop in the centre of Town and back to Buckfastleigh Station via the old A38.
Passengers travelling from Buckfast Abbey should join the 'bus and travel via Ashburton.
Ashburton (Bull Ring) is near the T-Junction in the centre of town. The 'bus uses the same stop as Stagecoach routes X38 to Plymouth and 88 to Totnes & Paignton.
There will be no charge for the service however donations towards the costs will be gratefully accepted.
Omnibus Timetable

Buckfastliegh - Ashburton

Railway Replacement 'Bus Service

Buckfastleigh Station

11 35
1 10
2 10
3 10
Buckfast Abbey
11 40
1 15
2 15
3 15
Ashburton (Bull Ring)
11 50
1 25
2 25
3 25
Buckfastleigh (Valiant Soldier)
12 0
1 35
3 35
4 35

Buckfastleigh Station

12 05
1 40
3 40
4 40