TURNING THE CLOCK BACK 70 YEARS TO 'D-DAY' 1944 AT THE SOUTH DEVON RAILWAY Saturday 5th & Sunday 6th July 2014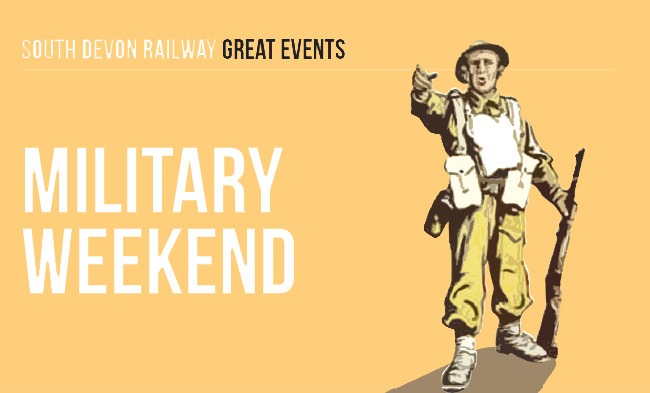 The clock will be turned back seventy years to 'D-Day' 1944 and the key turning point of the Second World War when the scenic South Devon Railway and the Devon Branch of the Military Vehicle Trust (MVT) host their impressive 'Military weekend' on Saturday 5th & Sunday 6th July.
And a special former Southern Railway steam loco with a strong wartime pedigree will be attending as the star of the show in the form of 'USA Class' 0–6–0 dock tank engine NO. 65. It was imported from the United States during World War II to help with the war effort and then worked around Southampton docks in the build up to D-Day.
This powerful, but very basic and almost ugly engine, is normally based on the Kent & East Sussex Railway, and the loco's hire has been kindly underwritten by the Devon MVT given its strong wartime connection.
Whilst the USA Class dock tank engines – known as 'Switchers' in America - only saw service around Southampton docks and a few places in the South East, one member of the class did make it to Devon and worked at the now moribund Meldon Quarry shunting heavy stone trains.
The military weekend event will feature over 50 historic military vehicles, such as jeeps, trucks and motor bikes from the 1939-45 wartime era and beyond, plus uniformed personnel, weapons displays and an encampment. There may even be the remains of a crashed RAF Spitfire if the enemy gunners have been on target.
With the SDR's own 'Dig for Victory' vegetable garden and many people attending in 1940s costume, the event aims to recreate scenes of what life and railway transport was like in 1940s war torn Britain. There will also be a display of World War 1 material in the SDR Museum and the Valiant Soldier pub in the nearby town of Buckfastleigh.
With other features such as unexploded bombs and sandbags by the station buildings, armed sentries on guard, an ENSA concert singing group, plus well-armed military and goods trains, visitors can step back in time to wartime Britain and maybe even beat the rationing system with an on train cream tea!
Offering a visual feast of 20th Century military nostalgia – and with the South Devon Railway's steam trains acting as a fitting backdrop to complete the period atmosphere — the riverside, lawns and Buckfastleigh station area will take on the appearance of a large military camp with uniformed soldiers in the West Country prior to D–Day with various displays and military dioramas.
Men, women and children turning up in 1940s period clothing will be made especially welcome, and all travellers on the railway should be given a wartime identity card when they buy train tickets.
Military Police will be looking for a German spy who is known to be in the area, and patrolling the stations and trains to check identity cards as well as looking for any downed German airmen or paratroops in disguise.
Plain clothes Police will also be looking to detect 'Spivs' illegally offering restricted, stolen or rationed wartime goods such as watches, nylons and items of women's lingerie!
But, with the risk of Hitler's bombers still an ever present danger, the station will be decked out with blast tape on the windows and sandbags for protection, plus there'll be at least one unexploded bomb nearby to add to the wartime atmosphere and hopefully a bomb disposal team at work!
Period vehicles will be parked around the site and many staff will be wearing WWII uniforms and clothing.
The two-day show will be an all steam train event featuring three former Great Western Railway (GWR) built locomotives: Collett 2251 Class mixed traffic 0-6-0 tender engine No. 3205; itinerant 4575 Class 2-6-2 No. 5542, and 57xx pannier tank No. L 92 which is sporting London Transport maroon livery.
Various different types of passenger and military and goods trains will be in use on both days operating to a special intensive timetable which can be seen online at the SDR's website: www.southdevonrailway.co.uk
"It's now 70 years since D-Day and fewer and fewer people now remember what the 1940s were like. So, we are hoping to recreate some of the everyday but memorable and nostalgic scenes from that era in conjunction with the Devon area Branch of the Military Vehicle Trust," said SDR Railway Manager Chris Williams.
"There will be something on site to attract most people who have an interest in British military history and steam trains, and we are especially pleased to welcome USA Dock tank loco No. 65 to our line for the very first time as the star of the show. It promises to be a memorable event."
The Military Vehicle Trust is a charitable organisation of enthusiasts dedicated to the research, restoration, running and showing of historic military vehicles, as well as providing uniforms and equipment to set up living history displays.
The Military Vehicle Trust actively supports the work of the Royal British Legion, SAAFA (Sailors, Army and Air Force Association) and the Normandy Veterans Association.


Please note that all these documents are in Adobe

®

"pdf" format, so you will need the Adobe

®

plug-in to read them. If you haven't got this yet then please click on the Adobe

®

icon above to download it.
(

The South Devon Railway is not responsible for any damage that may occur by downloading or using third party software

).


The South Devon Railway reserves the right to change train services without noice.




*

Opens in a new window.