"Foxcote Manor"
arrives for Easter Gala visit
7822 "Foxcote Manor", owned by the Foxcote Manor Society and normally based on the Llangollen Railway has arrived at Buckfastleigh for a short visit. The engine will be the star attraction at the forthcoming
Easter Enthusiast Gala
. "Foxcote Manor" will haul a rake of chocolate and cream carriages for the two days of the gala which will also see the SDR's own fleet of steam engines all in steam and working an intensive and interesting timetable. The event will also see a large selection of vintage cars and motorbikes on display.
"Foxcote Manor" will be in use at Buckfastleigh for a further two weekends before returning North to Llangollen. It is the third "Manor" to reach Buckfastleigh - "Lydham Manor" was originally based at Buckfastleigh before transfer to Paignton in the early 1970's and Bradley Manor visited Buckfastleigh whilst in the area on main line specials during 1997 and was used on some service trains during a fortnight layover. The 'Manor's are the only ex-GWR 4-6-0 design that are within the current 18 ton weight limit on the SDR.
The photograph shows 7822 being shunted into the running shed immediately after arrival and having been attached to the SDR owned 3000 gallon intermediate tender that will run with 3803 in due course. In the region of £2000 has been saved on the cost of the exercise by using this tender rather than transporting 7822's current tender to Buckfastleigh.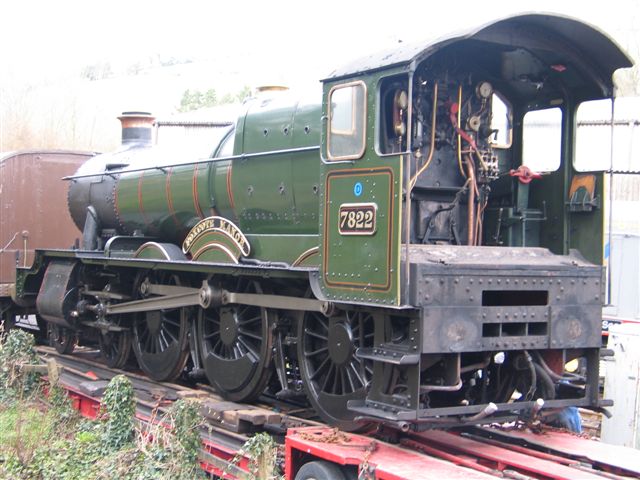 Foxcote Manor arrives on low loader (Picture of footplate reminiscent of Swindon) Photo

©

Richard Bruford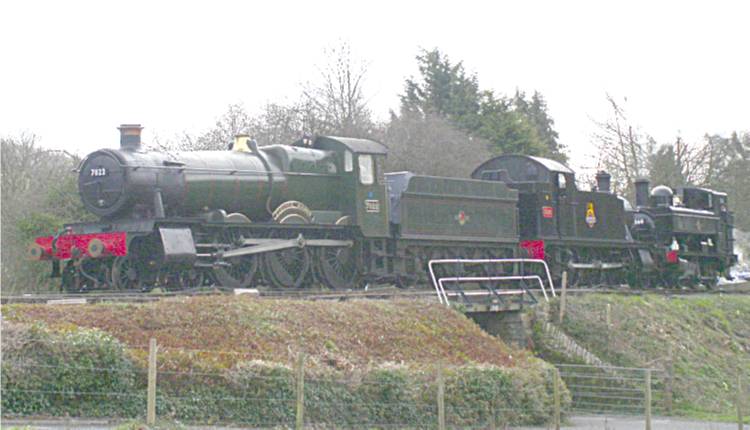 SDR's Locomotive 0-6-0PT 1369 shunts Foxtcote Manor and 5526 Photo

©

Richard Elliott