SOUTH DEVON RAILWAY Brian Thomas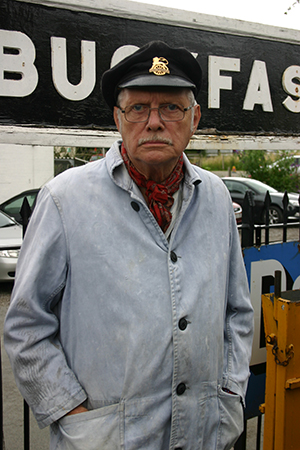 Brian Thomas in the Grumpy Old Man pose that he honed to perfection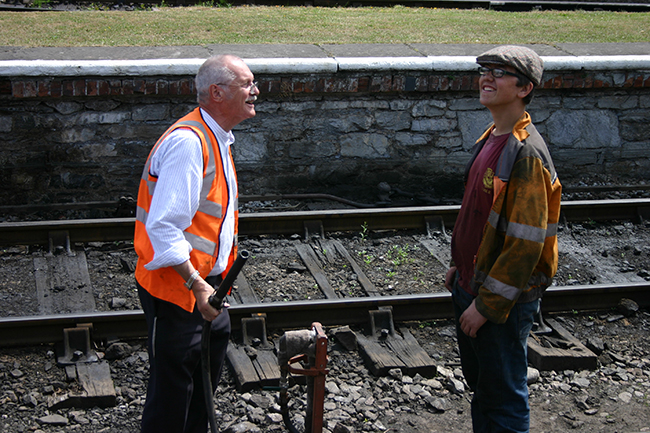 Brian Thomas & Ernie Elsworth–Wilson watering the train in 2010
Photo © J Brodribb 2010 & 2011
It is with deep sadness that we have to annouce that Brian Thomas died at 8.0pm on Friday 27th December 2013.
Brian was a great character and was frequently seen on Buckfastleigh Station performing his duties. He perfected the Grumpy Old Man and, during the Military Weekends (which he initiated) he was frequently seen as a spiv offering Woodbines and silks. The "Pose" was exactly that – Brian had a great sense of humour and a remarkable generosity of spirit. He was always ready to offer support to his many friends at the South Devon Railway.
In accordance with Brian's wishes, there will be no funeral service.
Our thoughts and condolences are with his widow Christine.
Photo © M Thomas (Worcester Loco Society) 2013
SDRA Chairman Ted Parrott has commented: "Brian was always full of fun, and would often dress down to a Benny Hill type character, complete with the Daily Sketch in his back pocket at 40's weekends. One of his abilities was to be able to keep a straight face, when it suited."