"London Group RM Appeal"
RM1872's Web Site giving current status
Photo © EnsignBus Company
In 2004 the London Group of the South Devon Railway Association launched an appeal to preserve one of London's iconic buses, i.e. a Routemaster. These were being made available by The EnsignBus Company and we were allocated bus number 14. Until the draw we didn't know if it was to be an RM or an RML (as above).
If you'd like to help us keep RM1872 on the road then please contact the for details.
Since the vehicle was purchased by the South Devon Railway Trust we made full use of our charitable status and so all donations (no matter how small) could be Gift Aided. Click here for the form.
It was our intention that the 'bus augmented Ron Greet's fleet of vintages 'buses which provided such an excellent service to Buckfastleigh and local environs for our customers until his retirement. A new is now provided by South Devon Railway Road Services Limited.
Update 18th November 2004
News has now been received from "Ensign" that we will be collecting our 'bus (No 14) on Sunday 5th December. We will then set off early on the morning of the 6th December to drive from London to Devon via the M3 / A303 / M5 / A38 with an expected arrival at Buckfastleigh mid afternoon. (If you're driving that way on the 6th give us a wave, we won't be going very fast !).
Thanks very much to everyone who has responded to our appeal which has helped us achieve our aim.
Our friends at "Ensign" have given us the numbers of the vehicles that they expect to make up the 32 RM's / RML's and as soon as we know which one has been allocated to us, we will hopefully, with the help of the Routemaster Association, be able to provide the history of our vehicle.
If everything works out then next year when you visit the SDR you will be able to ride on one of London's ex Routemaster 'Buses around Buckfastleigh on our to Buckfast Abbey and Buckfastleigh.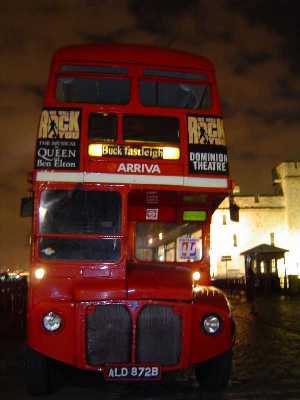 Today we picked up our Routemaster no RM 1872 from Ensign Bus in Purfleet Essex along with 31 other preservationists.
A brief history of our vehicle is that it was delivered in march 1964 to Aldenham with a leyland 0600 engine. It went to Edmonton first and was then transferred to Upton park for use on Route 15 in April 1964. In July 1967 it was transferred to Hornchurch for use on Route 165, returning to Aldenham in September 1967 for overhaul. From Hornchurch it was transferred to Tottenham in September 1968, on her final overhaul she received body 1870.
In 1990 she was fitted with an Iveco engine and by 1995 was working route 159 from Brixton. She was repainted in 1997 in Red and Yellow before becoming Arriva South London and losing the yellow band. In June 2001 she was refurbished at Enfield and three months later received a new Scania engine. Her final route was the 137 and was withdrawn from service and sold to Ensign in August 2004. Currently her hub odometer shows 172959 miles.
| | |
| --- | --- |
| | |
| The RM / RML's lined up at Ensign Bus Purfleet | RM 1872 and RM 736 awaiting new owners |
| | |
| The Draw taking place with Pete and Steve Newman | RM 1872 posing by Tower Bridge |
| | |
| This time trying not to enter Traitors Gate | Finally posing by the Tower of London itself. |

Our journey from HM Tower of London started rather early with an 06.30am departure to escape Ken Livingstone's London Congestion Charge. We made excellent time with Ruth driving out onto the M3. John then took over and after stopping at Fleet services for a breakfast break we set off down the M3 / A303. Having passed Stonehenge we were descending a long hill on dual carriageway when we developed a problem with the Speed Generator on the Gearbox. Having stopped and tried to re-engage automatic we found that we could only manually get 2nd gear and a maximum of 15mph. Out came the newly purchased maintenance manual which confirmed the problem. A phone call back to EnsignBus brought a very helpful member of their staff called Leon to the telephone who then assisted by talking us through how to convert the transmission from Automatic to Manual operation. Gavin followed the instructions explicitly and sure enough within the hour all was well and we were back on the road at a steady 38 mph. Because we were running behind our schedule the second RML, which was making its way to Truro in Cornwall, driven by Ed Rowson had caught us up and passed us while we were effecting repairs. Gavin, as a reward for fixing our RM, got a go at driving and on we went past Yeovil and turned off up the A358 to Taunton and the M5. We then met up with the other RML at Taunton Dene and drove the last leg to Buckfastleigh in convoy, receiving many waves and toots from other vehicles as we entered Devon. Holden Hill proved to be a challenge with both engines working hard to make the ascent and highlighted the difference between an RM and an RCL (which is what Ed's RML was built as). We even stopped to pick up a couple of SDR members at Chudleigh and DrumBridges, where the opportunity was taken to change drivers, Ruth took over, driving for the final leg. Arrival at Buckfastleigh was just after 4pm, where both vehicles stayed overnight for a well earned rest after their epic journey.
| | |
| --- | --- |
| | |
| Breakfast at Fleet Services | Refuelling and repair at Willoughby Hedge on A303 |
| | |
| RM 1872 and RML 2335 at Taunton Dene | Safe arrival for Christmas at Buckfastleigh |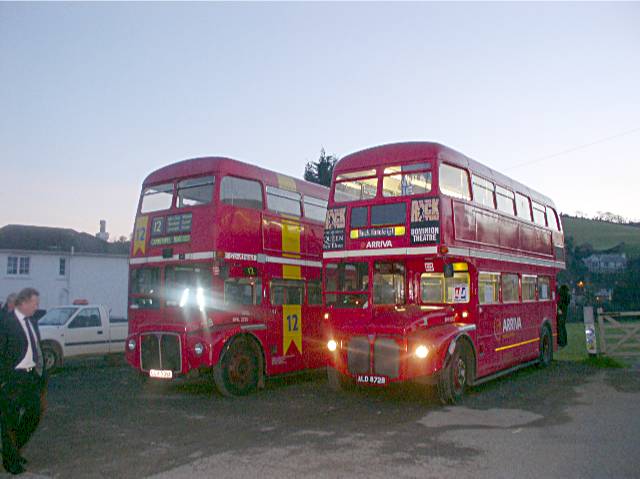 Resting together after their epic journey
For further information on RM1872, its restoration and repairs please go to the dedicated web site.