SOUTH DEVON RAILWAY ON TRACK FOR ITS BEST EVER SEASON AS SANTA TRAINS SELL OUT...

BUT THERE'S STILL TIME TO SEE SOME SUPERB DEVON SCENERY AND SAMPLE A SEASONAL MINCE PIE FROM A STEAM TRAIN!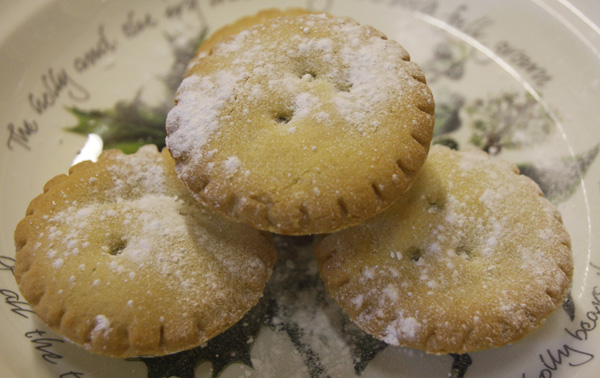 The South Devon Railway is on track to record its best ever season and carry over 110,000 people in the year after its popular Santa trains completely sold out this week. But there's still time to see some superb Devon scenery and sample a seasonal mince pie on board one of the railway's steam trains immediately after Xmas and into the New Year.
Despite the economic recession, the pretty seven-mile line has bucked the trend and had carried over 109,000 people by this weekend. SDR managers are now confident that they'll break through the 110,000 barrier for the very first time providing the cold weather doesn't deter people from wanting to see a Winter wonderland from the comfort of a warm steam train.
So, anyone wanting to beat being stuck indoors on the sofa watching television after Christmas Day and Boxing Day can still make merry with a free mince pie on an SDR steam train and sample mulled wine from our bar.
The award-winning line is running "Mince Pie" special steam trains over six days from Tuesday 28th December right through to Sunday 2nd January inclusive to welcome the New Year in style. The Mince Pie special trains have plenty of seats available and don't need to be pre-booked.
The trains provide a relaxing trip back in time in railway carriages drawn by a real steam engine down the glorious valley of the River Dart with great unimpaired countryside views now that the leaves have fallen, plus occasional glimpses of canoeists battling with the water torrents.
There's also a well-stocked gift and model railway shop to visit at Buckfastleigh which offers a selection of unusual gifts, including railway books, videos, and plenty for Thomas the Tank Engine enthusiasts. And you can even buy a gift voucher for a course teaching someone to become a train driver!
As well as the free mince pies plus hot and cold drinks on tap from the on train buffet car, there are more substantial snacks available as well at Buckfastleigh Station's refreshment rooms for hungrier guests. The gift shop and refreshment rooms are also open from the 28th December until the 2nd January 2011 inclusive.
The Mince Pie specials adult round trip fare is £10.00 for adults, £9.50 for seniors and £6.00 for children, with family tickets (two adults plus two children) at £29.80. Our standard "Red" timetable applies.