SOUTH DEVON RAILWAY Mince Pie Specials
Beat getting stuck Indoors watching television after Christmas by enjoying some superb Devon scenery and tasting a Seasonal Mince Pie on a GENUINE STEAM TRAIN!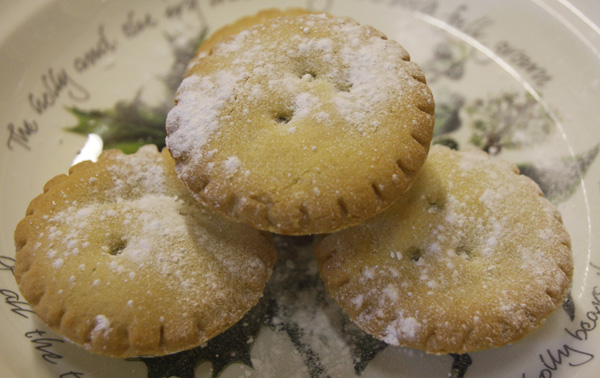 ++++ STOP PRESS ++++
It is with regret that we have had to withdraw the services advertised below due to the recent inclement weather which has caused a landslip at 4½ milepost.
Normal service will resume in February 2014.
Anyone wanting to beat being stuck indoors on the sofa watching television after maybe eating too much food on Christmas Day and Boxing Day can still make merry by jumping onto a really warm steam train to enjoy some stunning Devon scenery, plus a seasonal mince pie or two, at the South Devon Railway.
The award-winning South Devon Railway is running "Mince Pie" special steam trains over seven days from Thursday 26th December right through to Wednesday 1st January 2014 inclusive to welcome the New Year in style.
You'll be welcoming in the New Year in style and with four trains every day there are plenty of seats available so you don't even have to book!
The trains provide a relaxing trip back in time in railway carriages drawn by a real steam engine down the glorious valley of the River Dart with great unimpaired views now that the leaves have fallen, plus occasional glimpses of canoeists battling with the water torrents. Sitting in a really warm carriage, watching the smoke and steam from the engine curl lazily over the fields as you drift alongside the banks of the River Dart beats being stuck indoors on the sofa watching endless repeats on television. A brief stop at Staverton, where you can alight and take a leisurely promenade down the riverside walk, or continue on to Totnes Littlehempston for a short walk to Totnes town.
Whichever way you look at, it letting the train take the strain is a wonderful way to relax after Christmas - which for some of our passengers has become a tradition not to be missed. And of course our volunteers will be there to give you a huge welcome to make you feel at home.
There's free parking in our large car park at Buckfastleigh, not just for two hours but all day if you want to. In addition to the on train buffet car where you can get hot or cold drinks you can find more substantial snacks in the Buckfastleigh Refreshment Rooms which are open right through January. From there you can visit our well stocked gift and model railway shop which also offers a range of unusual gifts, books, videos and plenty for Thomas the Tank Engine enthusiasts.
AND you can even buy a gift voucher for a course teaching someone to become a engine driver!