SOUTH DEVON RAILWAY News 2 March 2017
It has been quite wet in South Devon just lately, although remaining fairly mild. Luckily today, Thursday, was dry most of the day, and there were even some sunny intervals: really rather pleasant.
Winter work on the South Devon Railway goes on. In the museum decluttering continues, concentrating under Tiny at the moment. The aim is to get a selection of as many types of rail as possible to complement the existing broad gauge baulk road, so a length of Barlow rail has now been installed, together with a little bullhead. In due course we are hoping for an offcut of flat bottom... The new velocipede display is nearly ready: hopefully there will be some photos of these next week.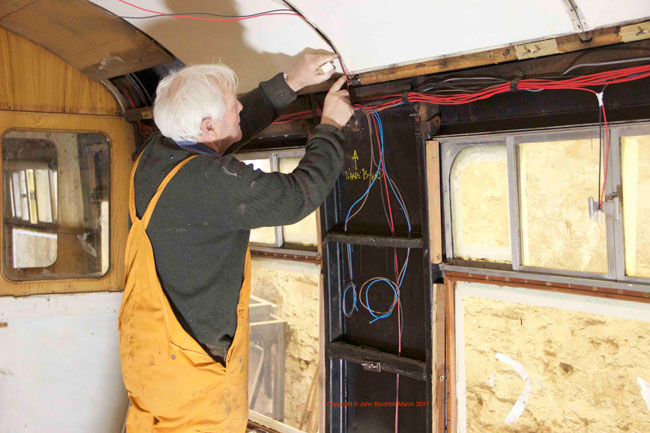 Mike Harris installing the nogs over the new luggage rack support bolts – note new cables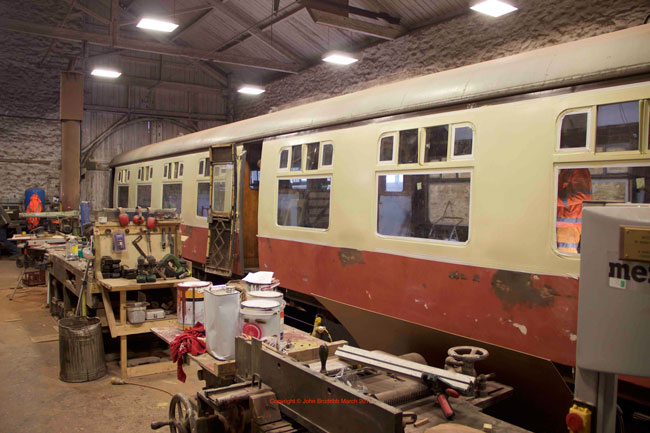 BR MkI SO 4785 starts to receive its new coat of paint
Photo © JBrodribb 2017
Next door, Carriage & Wagon continue with coach No 4785. This is a BR Mark 1 Second Open ( SO ) vehicle, with open plan seating in a 2+1 arrangement, so relatively low density at 48 total seats. The intention is for it to be turned out to a very high specification to become part of the dining set. Mike Harris is seen installing the wooden nogs where the luggage rack studs have been replaced. Note the new wiring including the extra wiring which will serve table lighting and call buttons. Externally painting is in progress by Dave Watkin, with cream now being applied on the upper body sides.
Paul Drewett monitoring the test steaming of 5526's boiler
Paul Drewett monitors 5526's boiler whilst Joe Fitzjohn adds more coal to the fire

Photo © JBrodribb 2017
Over in the workshops the big news is that GWR 2-6-2 small Prairie No 5526 has had a fire lit for the last two days, and has been undergoing steam testing. Paul Drewett is seen aloft adjusting the safety valves.
6412 being prepared for hire to the Chinnor and Princes Risborough

Photo © JBrodribb 2017
Routine maintenance has continued, with 6412 getting quite a bit of attention. Bob Vaughton and Steve Parkinson work underneath, while John Hasker undertakes repairs on one of its injectors. I've been asked not to mention that Colin Harmes was unavailable for this particular photocall, or that he has very, very recently celebrated a seriously major birthday.
The site for new sidings 5 and 6 taking shape

Photo © JBrodribb 2017
Outside work continues on the site of the new sidings. The cutting has now received ballast, with much more to come, while the PW gang in the distance work on the new point where Nos 5 and 6 roads diverge. Access to the Lee Moor museum is looking a bit tricky, though.
A couple of very nice photos from Colin Lennox Jones of the John Frood memorial trains at Hood Bridge and Staverton.
Best wishes
John Brodribb
SDRT Museum Curator