SOUTH DEVON RAILWAY Announces the successful
purchase of R.K. Pridham Engineering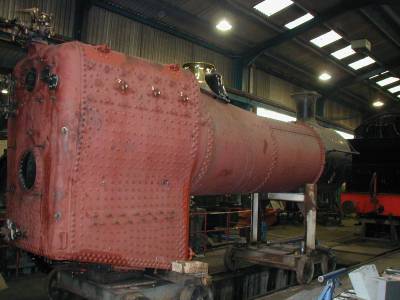 5526's Boiler in March 2003
One of the heritage railway movement's most respected boiler repair specialists and engineering firms, R.K. Pridham Engineering, has been acquired by the South Devon Railway's newly created engineering company at Buckfastleigh.
After 35 years in the business, both founder Roger Pridham and his family thought it was time for him to move towards retirement.
So, after talks behind closed doors with the nearby friendly South Devon Railway, both parties moved towards creating a formal agreement that would not only safeguard the Pridham family's engineering skills and facilities for posterity, but also help the South Devon Railway repair its own loco fleet into the future.
Under the terms of a very significant deal for the whole heritage railway movement, all of the Tavistock-based firm's specialist boiler repair and manufacturing equipment, including the specialist presses and dies needed to make boiler components, are now being moved to the South Devon Railway, and the company's three full-time expert staff will also relocate to Buckfastleigh.
Established in 1975, R.K. Pridham Engineering has been run by father and son duo Roger and Paul Pridham for 35 years and has established a pre-eminent reputation in the world of railway and traction engine boiler repairs. Both Roger and Paul Pridham will continue to work with the South Devon Railway as consultants.
But the good name of R.K. Pridham Engineering will not just disappear as it will be absorbed seamlessly into the operations of South Devon Railway Engineering (SDRE), the SDR Trust's own engineering company which already carries out significant external contract work, such as fitting new tyres, for both heritage railways and national Train Operating Companies.
The sale, for an undisclosed sum, involved complex legal arrangements between the two organisations and both firms used local West Country solicitors to advise them on the deal. Ashfords solicitors in Plymouth were retained by the South Devon Railway, and R.K. Pridham Engineering retained Stones in Okehampton and Exeter.
Under the skilled guidance of SDR Workshop Manager Rob Le Chevalier -- who has known Roger Pridham from when he first started as an apprentice at Buckfastleigh 25 years ago -- SDR Engineering will now take over completion of the main contract held by Pridhams for the repair of Severn Valley based loco No. 34027 "Taw Valley" along with other works in the pipeline.
Commenting on the sale, Roger and Paul Pridham said: "Choosing when to retire is never an easy decision to make, especially when you want to see your life's valuable work continue into the future. But, with the sale of our prized engineering assets and the transfer of our staff to the South Devon Railway, we know that our business is in safe hands for the future.
"The South Devon Railway has a well equipped engineering workshop to which they will be adding the boiler making facilities of R.K. Pridham Engineering. Their engineering staff are highly skilled and experienced in a range of services, from metal fabrication and presswork through to the manufacture of parts for GWR and other steam locos, plus rolling stock, to the full restoration of steam engines.
"We will be working closely with the South Devon Railway for the foreseeable future and are confident that this development is the best way to preserve and develop the skills and facilities we have built up over the years."
South Devon Railway General Manager Dick Wood commented: "Naturally, we are all very pleased to have concluded this significant, beneficial deal with Roger and Paul Pridham. It's not only important to us for repairing our own engines in the future, but also for the whole heritage railway movement and traction engine sector too because it safeguards both the skilled expertise of boiler making and equipment in the UK for posterity.
"We are already a good way towards moving the equipment to Buckfastleigh and installing it, and we expect it will be business as usual very quickly. We've all worked hard on making this deal work, and the important benefits of it will come in the years to follow."