Rails and Ales Gala — Friday 22nd to Monday 23rd August 2014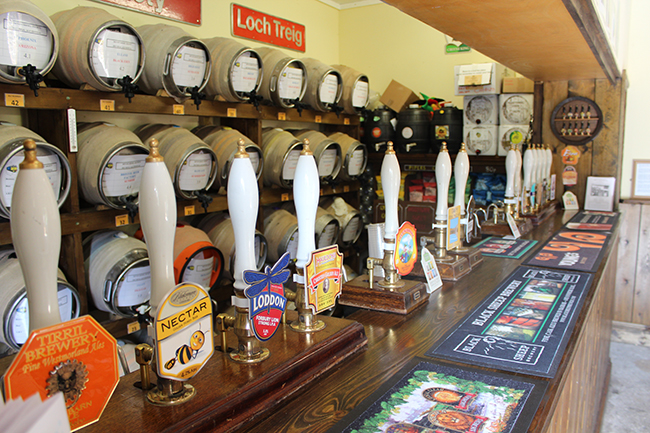 The Staverton station bar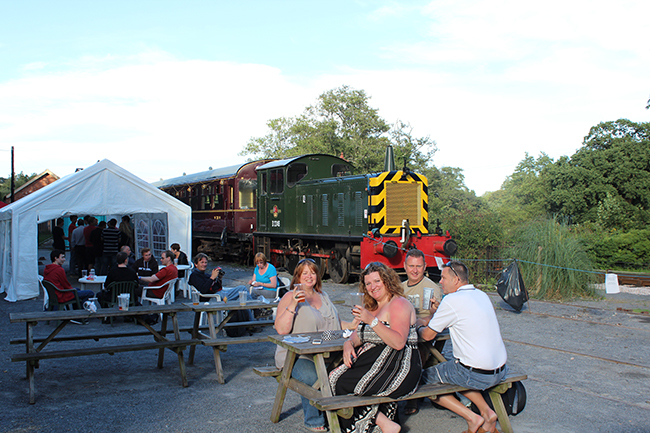 The Beer "Garden" at Staverton station
This coming August bank holiday weekend ( Friday 22nd to Monday 25th August ) will see the scenic South Devon Railway (SDR) hold its annual Rails and Ales event which this year is again over four days due to its popularity. The Real Ale Festival is being organised by the Devon Diesel Society as in previous years so a high standard can be expected.
The event, which is popular with both railway enthusiasts and fans of Real Ale, will feature a mix of classic rail travel over the seven-mile line, including the use of both steam and heritage diesel locomotives, along with the Real Ale Festival which will be located at the picturesque Staverton Station.
The combination of the authentic surroundings of a station unspoilt from years past and set in such a tranquil location, together with the classic combination of heritage trains and good quality ales and cider, has proved to be an excellent recipe with the size and popularity of the festival growing year upon year.
With very limited parking at Staverton during the event, visitors are advised to use the frequent train service from both Buckfastleigh, where there is a large free car park, or from Totnes, where there are good connections with mainline train and local bus services.
Passenger services operate from 10.00 am through to 11.15 pm on the Friday, Saturday and Sunday, and to 6.00 pm on the Monday. Both steam and heritage diesel locomotives will be used as follows:
Steam:


4575 Class "Small Prairie" N

O

.5542
2251 Class "Collett Goods" N

O

. 3205
57xx Class "Pannier Tank" N

O

.L92
Fri, Sat, Sun & Mon
Fri, Sun & Mon
Mon
Diesel:


Sulzer Type 2 N

O

.D7612
English Electric Type 3 N

O

.6975
Sat & Sun
Fri, Sat & Sun
In addition the Devon Diesel Society's small Class 04 diesel shunter NO.D2246 will be on static display at Staverton.
On Friday, Saturday and Sunday the late evening trains will feature 5542 running with auto trailer W228 working as an auto (push pull) train. The full public timetable, along with locomotive allocations can be found here.
Over 60 different ales and traditional ciders from both local and national brewers will be available at the Real Ale Festival. The list of ales and ciders is available here. Note: not all ales will be available on all days. The festival opens daily from 11:00 am until 11.00 pm Friday, Saturday, Sunday and then 11:00 am to 6.00 pm on the Monday. There is no separate admission charge to the festival and all ales and ciders will on sale at just £3.00 per pint with proceeds from the festival helping fund the ongoing restoration and maintenance of the Devon Diesel Society's fleet of historic locomotives and rolling stock.
A range of hot and cold food, cakes, tea, coffee and non alcoholic drinks will be available from the Staverton Preservation Group who will be serving from the newly converted buffet car situated in the bay platform at the station.
Additional seating, both covered and open, will be provided in the station yard area which will be open to the public throughout the weekend. The Worcester Locomotive Society will be present in the yard on Saturday, Sunday and Monday serving PIMMS, and on Saturday and Sunday evening there will also be a BBQ in the early evening. Sunday night will once again feature the popular just for fun quiz.
Note: First Great Western offer through all rail tickets from their stations to Staverton or Buckfastleigh – just ask at their booking offices or on-train guard (change at Totnes for the SDR train). On Friday, Saturday and Sunday the last SDR train for Totnes leaves Staverton 10.20 pm (arrives Totnes (Littlehempston) 10.32 pm ). Monday the train leaves Staverton at 5. 5 pm arriving Totnes (Littlehempston) 5.17 pm.
Timetables etc. for downloading and local printing.
Please help make this a great event by downloading, printing and displaying the poster and timetable; thank you.


Please note that all these documents are in Adobe

®

"pdf" format, so you will need the Adobe

®

plug-in to read them. If you haven't got this yet then please click on the Adobe

®

icon above to download it.
(

The South Devon Railway is not responsible for any damage that may occur by downloading or using third party software

).


The South Devon Railway reserves the right to change train services without notice.




*

Opens in a new window.