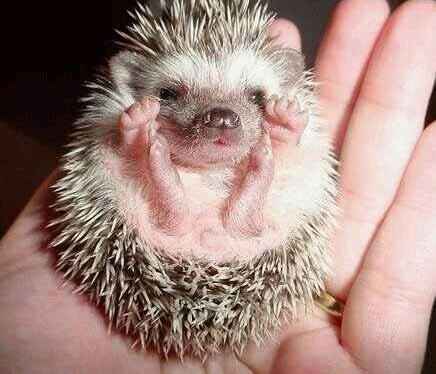 Photograph © 2001-2004 Exotic Nutrition Company
On Friday April 25th, a hedgehog was brought into the 24-hour hedgehog rescue centre which is a thriving part of Totnes Rare Breeds Farm run by Barrie and Jacquie Mills-Tolley and based by Littlehempston Station on the South Devon Railway.
It was discovered under a shed which was being demolished and, as it seemed to be in no distress, staff made it comfortable and housed it securely in a specially designed rehabilitation units. The next morning, Barrie and Jacquie viewed the hedgehog again prior to contacting the local veterinary service which is part of normal routine when new 'patients' arrive.
To everyone's amazement, this further inspection showed that the hedgehog had given birth to four seemingly extremely healthy offspring overnight! Barrie and Jacquie felt that this was unusually early and, to confirm this view, contacted Elizabeth at the Devon Wildlife Hospital who is a well respected hedgehog expert and founder of the hedgehog hospital at Newton Abbot (contact telephone number 07730 844 954).
They too were amazed and, after many years of involvement with these creatures, also found it quite extraordinary as baby hedgehogs are usually born around the first week of June. On seeing the story about early born Swan cygnets at Abbotsbury, it seems that other West Country animals are giving birth early.
Barrie and Jacquie Mills Tolley can be contacted on: 01803 840387 or mobile (Barrie Tolley) 07719945700
Totnes Rare Breeds Farm, May Hems Cottage, Littlehempston, Totnes, TQ9 6LZ
The Rare Breeds Farm has hundreds of rare breed animals at the public attraction, including pygmy goats, red squirrels, owls, sheep, guinea pigs, chickens and ducks.