SOUTH DEVON RAILWAY Workshop Extension 2014
The new wheel press pit is in the foreground

Photo © JBrodribb 2014
As part of the continued development of The South Devon Railway Engineering arm of the Railway a new 5 metre extension has been authorised and work has now started on site. The extension is limited by the road for the coal lorry. Most of the space was previously used to store new tyres awaiting fitting.
The purpose of the extension is to bring under cover the former Derby wheel press, to set the tyre heating ring level with the floor and to reduce the overall congestion within the workshop. The opportunity has been taken to set the wheel press into a pit like it had been at Derby which will make it easier to use. The extension will also feature another overhead crane so moving wheelsets around will also be simple.
The photographs shew the progress to date.
The steel frame building is being erected from week commencing 08th December ( weather permitting ) after which the new external walls will be built and the present wall demolished.
Works starts on a somewhat soggy site
The worksite is cleared ready for excavation
The stanchion pads, with bolts, in place
The tyre heating hearth formwork
The new tyre heating hearth
The wheel press in its new pit

Photo © JBrodribb 2014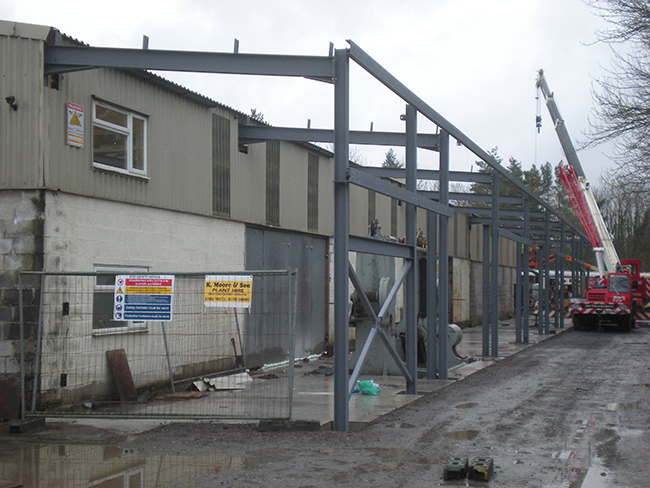 The new steelwork being erected – note double columns for overhead crane.

Photo © JBrodribb 2014