SOUTH DEVON RAILWAY Workshops Fireworks 2013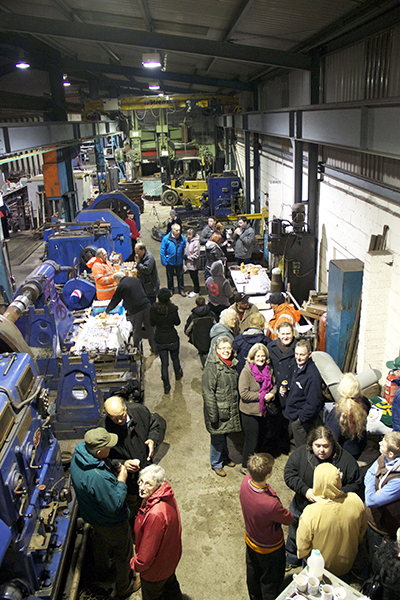 A small section of the assembled throng is seen inside the workshop,
enticed by both the lack of rain and the superb selection of cakes!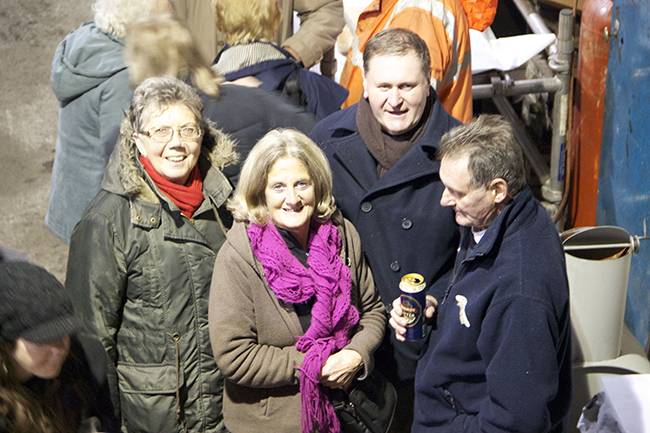 May Webster, Jean Bowden, Howard Webster, Chris Bowden
The annual SDR Engineering fireworks display took place on Saturday evening, 02nd November 2013. As ever, a magnificent barbecue was laid on for guests, and there was plenty of food and drink for everyone. Although the weather started with clear starry skies the rain set in as soon as the time came for the firework display. This didn't stop Rob le Chevalier and his team braving the elements, and the show was superb, and much appreciated by everyone. The evening also provided a chance to see some of the current projects, including the SDR's own 6412, which is having its cab fitted. The photos help to tell the story:
The pinnacle of SDR Engineering's achievements to date is undoubtedly the potato baker, specially re-livereied for this season. It is seen both externally and fully loaded, and it is worth mentioning that a wide range of tasty fillings was also available.
Pete Bowden worked very hard to keep up the supply of burgers, and is seen in action. That isn't one of these new-fangled gas barbies - this is the GWR coal fired version!
The former SDR General Manager was seen in the soup kitchen ladling out the soup for grateful customers.
And finally - the fireworks. As ever, despite the rain, a superb display, full of colour, noise and general spectacle. A big thank you to Rob and all his staff and volunteers for all their efforts.
All photographs © John Brodribb 2013