GWR Monster 594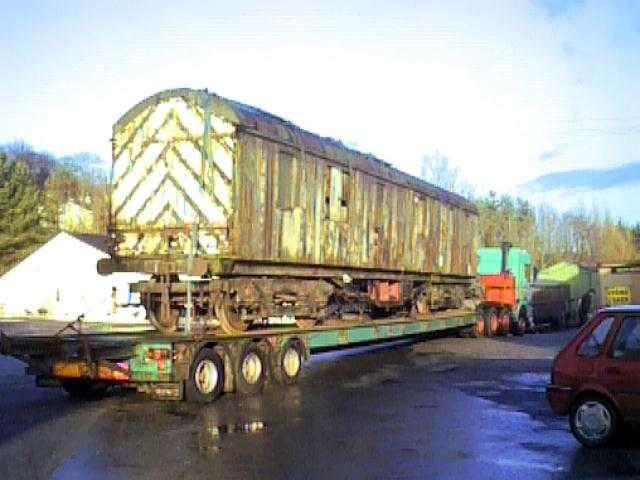 594 when she was delivered in 1999
When 'Monster' 594 arrived at Buckfastleigh most people laughed in the way that most enthusiasts do when they see some new projects for the first time.
Fortunately, many of us wear rose tinted glasses for such occasions! Paddy Goss of the '813 Fund' set his supporters to work with a vengeance and it was not long before serious progress was made with the project. Only one other 'Monster' survives. This one was made in 1918 – and it looked like it! It has had oceans of new timber in the frame and all new doors on both sides and ends have had to be made. Much of the exterior tongue and groove woodwork was reusable but a lot of the roof needed fixing in place and about half the window frames have been replaced. The SDR has provided cash and labour to help with the project including some gentlemen on Community Service and a team from the Kingsteignton Community Resource Centre. So with help from all these sources the project is starting to come together. Next job will be to put new canvas on the roof and then the new gutters can go back. After that more paint inside and out.
When complete the vehicle will move to Totnes where it will provide secure storage at one end and a visitor centre at the other. This will include some seating and a display about the vehicle itself plus some history of the South Devon Railway.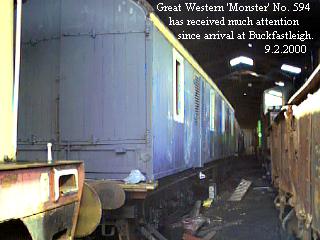 Update: 20 February 2001
Great Western 1918 built 'Monster' No.594 is virtually complete following its major rebuild as a joint effort by Paddy Goss's '813 Fund' and the Carriage & Wagon Department of the South Devon Railway. It is being outshopped in the plain all over brown livery given to these vehicles together with a white roof. Final lettering is awaited after which the vehicle will be transferred to Totnes Riverside Station where it will take up duties as a visitor centre offering a history display on itself and information on the South Devon Railway as well as much needed additional covered accomodation. The station building at Totnes Riverside was originally the station building at Toller Porcorum - a small wayside station on the Bridport branch and not used to the numbers of people now passing through its portals.
It is the first time that a vehicle on the South Devon Railway has been given a white roof and also the first time that the old method of roofing has been used with canvas glued to the wooden roof and painted with six coats of paint. Each coat of paint is mixed with boiled linseed oil starting with a 50/50 mix and reducing to a 10% mix by coat six.
Compare the pictures below with those of the vehicle when it first arrived at Buckfastleigh. The rose tinted glasses worn by hopeful preservationists have been well justified in this instance. Only one other GWR 'Monster' ( No484, built 1913 ) exists and can be found at Didcot.
There is also a BR(W) 'Monster' ( No600, built 1954 ) on the Gloucester and Warwickshire Steam Railway.
| | |
| --- | --- |
| | |