GWR Ocean Saloon 9111 "King George"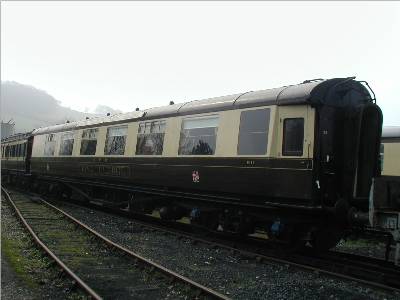 Former GWR Coach 9111 is better known as Super Saloon "King George" after King George V. It was the pride of the Great Western fleet of coaches, built to rival the Pullman coaches used by other railways. These coaches made full use of the the Great Western's historically wide loading gauges, as a result of broad gauge being 61' 4" long and 9' 7" wide. This meant that they were very restricted on the routes they could use.
King George was the first of the set built to diagram G.60 ( 9112 "Queen Mary" was also a G.60), however the rest were built to diagram G.61. A total of 8 were built and kept scrupulously clean at all times. (9112 "Queen Mary", 9113 "Prince of Wales" and 9118 "Princess Elizabeth" (the kitchen car) are with the Great Western Society at Didcot. The rest of the rake were 9114 "Duke of York", 9115 "Duke of Gloucester" and 9117 "Princess Royal").
9111 was rescued at the beginning of the Dart Valley Railway's formation, together with a sibling, 9116 "Duchess of York" which has recently been purchased by the South Devon Railway and returned to Buckfastleigh on the 28th April 2004. 9111 is the property of the South Devon Railway Association whereas 9116 belongs to the South Devon Railway Trust.
9111 is still used as first class accommodation, however being only 28 seat (24 in saloons and 4 in coupé) and 35 tons, only really sees use on private charters.
In early 2004 "King George" was returned to DC (Battery & dynamo) working from the 1980 240 volt AC "mains" system it had been given following its time as a club coach. The 240 volt system required a generator somewhere on the train and didn't have any provision for mains failure. The return to the original DC system has a minimum of 5 hours autonomy on full charge. The change has restored the ambience of its original condition due to the under-running of the bulbs; just take a look: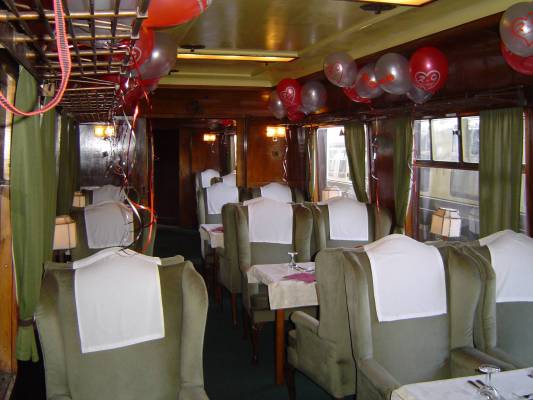 The Large Saloon (Balloons are for a wedding reception)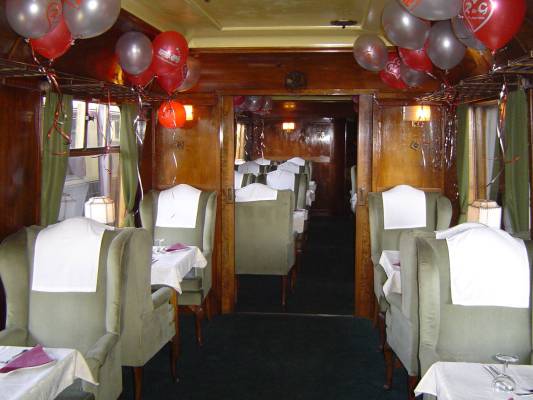 The Small Saloon