SOUTH DEVON RAILWAY
1950's & 1960's WEEKEND
with Beer Festival
A STEP BACK IN TIME
Saturday 29th to Monday 31st May 2010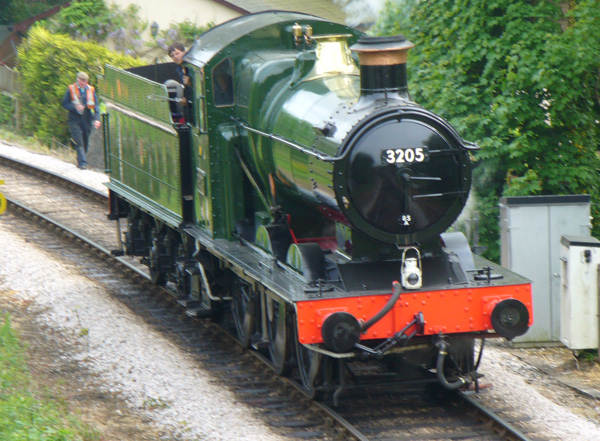 3205 back in action 29

th

May 2010
Following a major overhaul in the scenic line's own workshops, excitement is growing on the steam operated South Devon Railway as the final finishing touches of paintwork are applied to steam locomotive No. 3205 and the unique engine is made ready to debut as the star attraction at the SDR's forthcoming May Bank Holiday weekend 1950's and 60's gala event and linked real ale festival.
The attractive tender engine, which first arrived on the Buckfastleigh line 45 years ago back in October 1965, has operated at three other railways across the country since then and was withdrawn from service in 2006 requiring major overhaul. This work, which has included extensive boiler repairs, is now virtually complete for "running in trials" next week.
Although often seen working passenger trains, No. 3205 which is now the only surviving member of its type, is often referred to as the "Collett Goods" having been designed by former Great Western Railway Chief Mechanical Engineer C.B.Collett. The class were often found working all manner of goods trains over both main and branch lines in times past when most freight was moved by rail and not road.
And, after nearly 40 years painted in its former Great Western Railway colours, when 3205 emerges from the Buckfastleigh works it will do so resplendent in British Railways unlined green - the last livery it carried prior to being purchased for preservation, and the one that it carried when it arrived at Buckfastleigh in 1965.
The three-day 1950's & 60's event on Saturday 29th, Sunday 30th and Monday 31st May will see a special train service in operation on the scenic South Devon Railway. There will also be a host of some 26 different beers and three ciders on offer at the real ale festival at Staverton, ranging from Clint Eastwood and Blonde Bombshell to the Birds & Bees, Screech Owl, Curlews Return and Red Dwarf plus Spooky Moon.
Services are mainly steam operated, but with a few diesel workings also to represent the changes that were taking place on the railways during the 50's & 60's when diesel traction started to gradually replace steam on the national network.
Joining 3205 will be former Great Western Railway-built locos Nos. 5786 and 5526. Both are restored in British Railways plain black livery. All three steam locomotives will haul passenger trains on each day, with 3205 and 5786 also taking turns on the demonstration goods trains, and 5526 working the mysteriously named "auto train"
The "Auto" name comes from the way in which the driver operates the locomotive's controls "automatically" from the end cab of the leading coach via a clever system of rods and cranks rather than him being on the engine.
Auto trains would usually consist of just one or two coaches worked in push-pull mode by a small locomotive. A few of the GWR 55xx Class 2-6-2 "small prairies" were also equipped to work auto trains, and the South Devon Railway has fitted 5526 with the necessary auto gear to allow the sights and sounds of a genuine auto train at work to still be enjoyed.
During the late 1950's and early 60's in a bid to cut costs, steam hauled passenger services on many West Country branch lines were replaced by services operated by newly built diesel railcars. These services will be represented during the gala by the SDR's own railcar, No. W55000. Now restored to its original green livery, W55000 itself operated in the West Country and worked services to places such as Kingsbridge and Brixham - now of course long removed from the railway map.
Another regular feature of branch lines of yesteryear was the operation of the daily pick up goods. These trains would often amble their way along many a branch line, stopping off at stations and sidings to set down and pick up wagons containing a variety of produce.
Such scenes will be recreated on all three days of the gala, and the sights and sounds of wagons being shunted at both Staverton and Buckfastleigh stations will provide additional interest.
Visitors to the event will be able to enjoy a rare chance to find out what it was like to travel in the Guards Van of a goods train. At Staverton, between the main train services, 1956 built 0-6-0 diesel shunter No. D2246 will be operating over a short distance with a former Great Western Railway goods brake van.
Also at Staverton, the Devon Diesel Society will be holding another of their popular Real Ale festivals. Situated in the former goods shed, past events have been commended by the national Campaign for Real Ale.
With over 25 ales and ciders on sale, there will be a variety of tastes and flavours to enjoy. The ales will come from a mixture of both local and national breweries, and proceeds from the festival will go towards assisting the group restore 1967-built Class 50 diesel No. D402. The festival will be open from 11.00 until 18.00 on each day.
The miniature railway will be running and providing a frequent service throughout the event with trains departing at regular intervals from the new station adjacent to the main car park.
The main museum, which is being fully refurbished, will be open throughout the event. New displays for the 2010 season include an 0-4-0 saddle tank which once worked at the Gas Works in Exeter. Painted blue and named "Ashley" the locomotive is very popular with the younger visitors to the museum many of whom enjoy the chance to visit the footplate.
Also housed in the museum is the last remaining locomotive that ran on Brunel's famous Broad Gauge system, the 0-4-0 vertical boilered "Tiny" that is part of the National Railway Museum Collection and on loan to the S.D.R.
Another fascinating survivor that is expected to be on display for part of the event will be Lee Moor No.2 along with other interesting memorabilia from the former 4' 6" gauge Devon tramway line.
Refreshments will be available at both Buckfastleigh, from the main refreshment rooms, and at Totnes, from the Rare Breeds Centre, whilst the main train services will also feature an on train buffet serving a range of lighter refreshments, snacks and other souvenirs.
Further souvenirs, together with an extensive range of model railway items and equipment, can also be purchased from Expressway Models at Buckfastleigh.
There will also be a providing a gentle tour around the locale with stops at Buckfast Abbey and Buckfastleigh Town. On a clear day there is a good view over the local countryside to Dartmoor from the upper deck.
Trains services start at 10. 0 on Saturday (09.15 Sunday and Monday) from Buckfastleigh and 10.47 Saturday (10.02 Sunday and Monday) from Totnes. The South Devon Railway will be running trains EVERY day until the end of October. The Expressway model railway shop has gifts for children of all ages and is open for business on most days.


Please note that all these documents are in Adobe

®

"pdf" format, so you will need the Adobe

®

plug-in to read them. If you haven't got this yet then please click on the Adobe

®

icon above to download it.
(

Please Note the South Devon Railway is not responsible for any damage that may occur by downloading or using third party software

).


*

Opens in a new window.