SOUTH DEVON RAILWAY 2017 Permanent Way Works
Buckfastleigh yard December 2016 – new siding goes to right of the ash pile

Photo © JBrodribb2016
With the New Year celebrations now firmly behind us, work can get started in earnest. At the South Devon Railway two very big jobs to be completed in time for the February Gala are laying in the new pointwork and sidings at Buckfastleigh, and relaying between Southford Leat bridge and the cattle creep bridge at 2m 31chains, the latter has been recently rebuilt and remains subject to a temporary speed restriction. In the first week of January 1369 was due back and 5542 arriving for maintenance, so the pointwork at Buckfastleigh could not be started until these locomotives were safely in the running shed. There will be no rail access there while work is in progress.
The photos show the approximate site of the new sidings at Buckfastleigh, seen from the footbridge. The maze used to be beyond the swing, and has now been completely removed. The sidings will be close to the Lee Moor Museum, and for much of their length will be of a tramway type, so that road vehicles can continue to have access over them. Gates will control public access on the relatively rare occasions when shunting takes place.
A large stack of components for the 3–way turnout awaits installation by contractors.
The views from Napper's crossing of the flat bottom rail and new sleepers

Photo © JBrodribb 2017
Meanwhile, towards Totnes preparations are in hand for the big relay. The view from the train as it crosses Southford leat bridge (yes, it really should be Southford) shows the new concrete sleepers laid out by the lineside.
At Napper's Crossing the flat bottom rail can be seen laid out in the "four foot" while the view towards Totnes also shows how far it goes in that direction. Look for the yellow indicator board, marking the end of the speed restriction for the cattle creep bridge.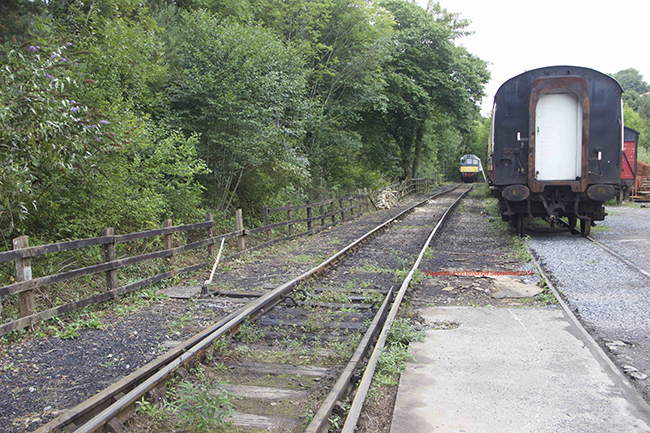 The headshunt and loop spur looking towards Ashburton
Photo © JBrodribb 2017
A quick reminder about the proposed carriage shed, to be erected over the headshunt and loop spur at Buckfastleigh. Work remains to be done with respect to provision for the Greater Horseshoe bats, and also on the flood plain, so Teignbridge District Council, the planning authority, has not yet been able to grant planning permission. The photo shows the site last September, with clearance well under way.
More news shortly.
Best wishes
John Brodribb
SDRT Museum Curator