SOUTH DEVON RAILWAY News 10th July 2017
6412 working a goods train on the Chinnor and Princes Risborough Railway

Photo © JBrodribb 2017
Dear colleague
Work continues at Buckfastleigh, and the new carriage shed continues towards completion. It is now almost completely clad, and we expect track to reappear before too long.
The boiler being hydraulically tested
L.92 ( GWR 0-6-0PT 5786 ) being re-assembled

Photo © JBrodribb 2017
In the workshops L.92 is coming along very well. The boiler passed its hydraulic test with flying colours, and Will Friend is seen live and in action during the course of this. With the centre axle boxes remetalled and reinstated, it was converted back to a rolling chassis ( see earlier story ), and then last week reunited with the boiler and firebox. The locomotive is scheduled to be back in service for 28 July. 5542 is now expected to remain until near the end of August, so relieving pressure on the motive power situation.
Setting up for the 1940s weekend

Photo © JBrodribb 2017
The major event was the 1940s weekend on 01-02 July, when the field at Buckfastleigh was back in use for the first time in a number of years. The photo shows the huge military encampment already starting to assemble on Thursday 29 June, and very impressive it was. Great entertainment and a superb spectacle, as ever, for the weekend. Full marks to everyone involved, and especially the Devon branch of the Military Vehicle Trust.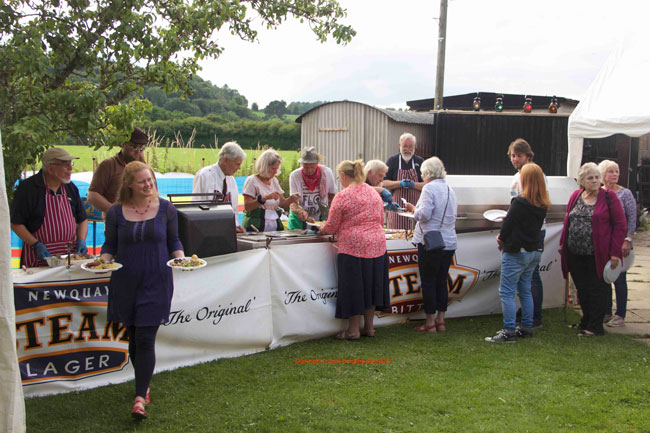 Serving the masses at Totnes Riverside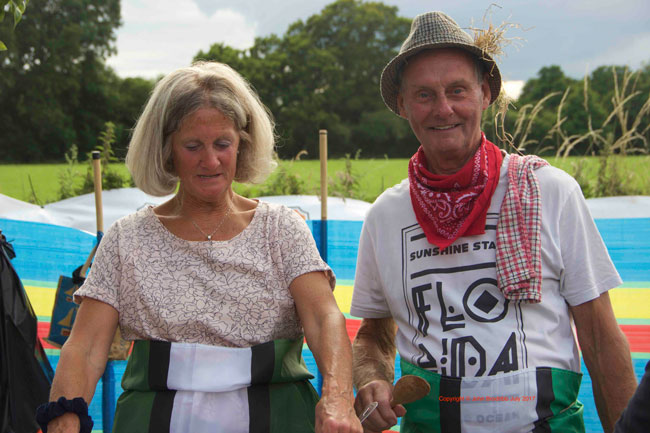 Jean and Chris Bowden
Photo © JBrodribb 2017
Totnes Station Group held their annual event on 08 July, and this year it was back to the traditional hog roast format. As ever, very well organised, with great food, drink and atmosphere. Full marks to all the Totnes volunteers involved, once again. The photos show the masses being served, with Jean and Chris Bowden in the thick of the action.
Cutting back at Bulkamore

Photo © JBrodribb 2017

Tidying up Buckfastleigh yard

Photographs © RDadson 2017
The Harris Gang have been busy at Buckfastleigh – it being very wet on Wednesday 28 June they were given the job of tidying the area between the loop and No 1 siding, long overgrown with Buddleia. Robin Dadson has very kindly supplied the before and after photos. It certainly looks a great deal better now. Their usual site of work is around Bulkamore siding, from where the train is slowing to pick them up on 05 July.
None of this happens without the loyal band of volunteers who support the railway. In the museum footfall for June showed a healthy 4% increase over June 2016, and the 1940s weekend recorded a staggering 45% (forty five!) increase. Again, well done to all the volunteers involved in keeping one of the most popular parts of the railway running.
Best wishes
John Brodribb
SDRT Museum Curator