SOUTH DEVON RAILWAY News – Good Friday 2017
The ballasting of the new sidings 5 & 6 to make "tramway" style track

Photos © JBrodribb 2017
Easter is very nearly upon us, and the preparations are almost complete on the South Devon Railway. There will be a special intensive timetable running on all four days of the holiday, with extra trains hauled by heritage Class 37 diesel No 6975. Timetables are available via the SDRA website. Sunday and Monday will feature classic cars at Buckfastleigh, where the new No 5 siding has had ballast dropped up to the top of the rails, with dust rolled in to make a surface for road vehicles. The photos show the area at the start of this week – Monday 10 April – and today, Thursday. Unfortunately there will not be an outdoor children's play area this season. It had to be removed to make way for the new Nos 5 & 6 sidings, and there has not been time to relocate it to the gardens next to the Miniature Railway station next to the main car park. It should be back for 2018 at the latest.
Clarence and the GWR Velocipede

Photo © JBrodribb2017
The Miniature Railway reopens on Easter Saturday, and has seen quite a lot of relaying over the close season. There will be an Easter Egg hunt on all four days, based on the museum. Museum work has concentrated in the original signal box of late, but there are new displays for this season in the main building. The velocipede is overseen by Clarence, who has moved in with us courtesy of Totnes Image Bank. We are currently having him measured up for his railway uniform.
Tony Brooks works on painting 5526 whilst the rest of
the locomotive is re-assembled

Photo © JBrodribb2017
Over in the workshops 5526 has been receiving most of the attention, with completion rushing towards us. It is likely that it will be outshopped without its auto gear, and that this will be fitted later. 5542 is likely to be staying on the SDR for longer into the season than previously planned, so there will always be an auto-fitted loco on site.
Colin Marsden with his birthday special headboard and RM1872 on
Marine Parade, Dawlish

Photo © JKeohane2017

Colin Marsden's headboard

Photo © JBrodribb2017

Colin Marsden's special dining train approaching Hood Bridge

Photo © BMills2017
A couple of special workings took place last Sunday, 09th April. During the day the well-known railway photographer Colin Marsden chartered the dining train for three trips to celebrate his 60th birthday. It was hauled throughout by Class 37 No 6975, and guests were served with food and drink on board. What a great way to celebrate! Many thanks to Bernard Mills for his photo of the train about to pass through Hood Bridge.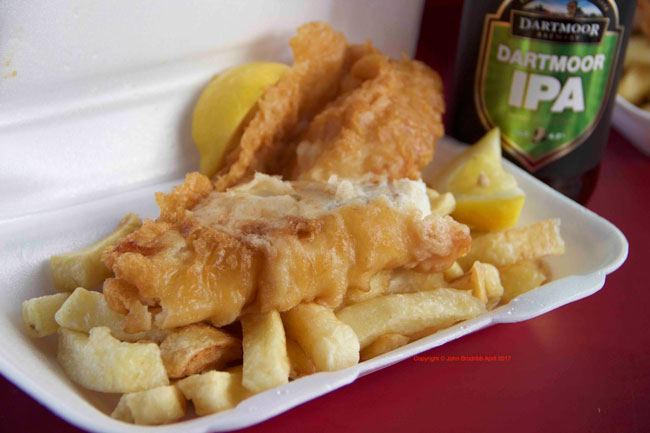 Fish 'n' Chips plus an Ale...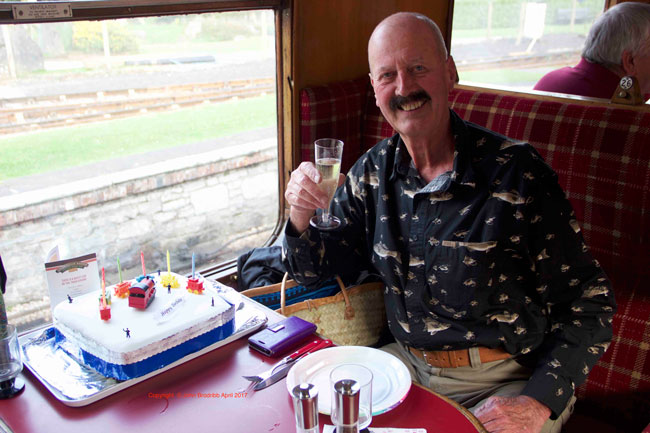 Robin Springett celebrates his birthday in style
Photos © JBrodribb2017
In the evening 1369 hauled the first of the Buckfastleigh Station Group's ever-popular fish'n'chip specials. At only £15 per head these are astoundingly good value – you get a return train ride to Totnes and your meal all as part of the price. Museum volunteer Robin Springett celebrated his birthday on the train, and is seen with his magnificent cake. The fish and chips come from Jolly Rogers in Buckfastleigh, with sausage and chips as an option. Another great evening out, and organised entirely by Buckfastleigh Station Group volunteers. The proceeds help to fund their work at the station.
John Brodribb
SDRT Museum Curator
Please note any opinions expressed in this article are those of the author and do not necessarily represent any of the South Devon Railway affiliates.