The South Devon Railway Signal and Telegraph Group are one of the active groups of the South Devon Railway Association and are responsible for the maintenance of the line's three operational signal boxes. They were instrumental in the development of the Bishop's Bridge site near Staverton and the fitting out of the latest signalbox at Totnes.
Now that the loop and associated signalling is complete at Staverton we are able to run more than one train simultaneously on the branch with the year 2000 timetable containing, for the first time, more than 30 days of multiple train running. Over the following years this has steadily grown as the greater operational freedom allows other services to be run such as private charters and Driver Experience courses to co-exist without interfering on the normal services.
Buckfastleigh currently has two signalboxes; the original GWR one at the north end of the site which was taken out of use when the A38 was built on the trackbed between Buckfastleigh and Ashburton and a newer one at the south end which currently controls the train movements.
The new "South" box was built at the Totnes end of the station and for reasons of cost was positioned under the footbridge. One day there might be yet another new "South" box or, if we succeed in returning to Ashburton, then the "North" box will be re-instated.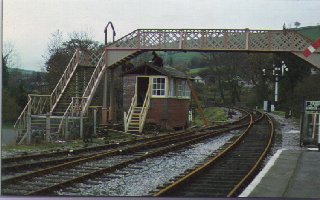 Buckfastleigh South 'Box
At Staverton there are also two 'boxes; the original crossing 'box opposite the platform and Bishop's Bridge Signal Box which was originally built by the Great Western Railway at Athelney when it was speeding up its route from Paddington to the West.
Athelney 'box was transported to Devon and has been rebuilt on its new site just North of Staverton station.
Here are a few pictures of it prior to its move.
Athelney Junction Signalbox in situ
At Totnes Littlehempston there's a new 'box known as Ashburton Junction being built to replace the original 'box demolished at the turn of the century when the 'box on the Up platform of Totnes station was extended to control the branch line.
Our "new" 'box has been recovered from Cradley Heath near Birmingham and is rapidly nearing completion.
For a fuller story click here.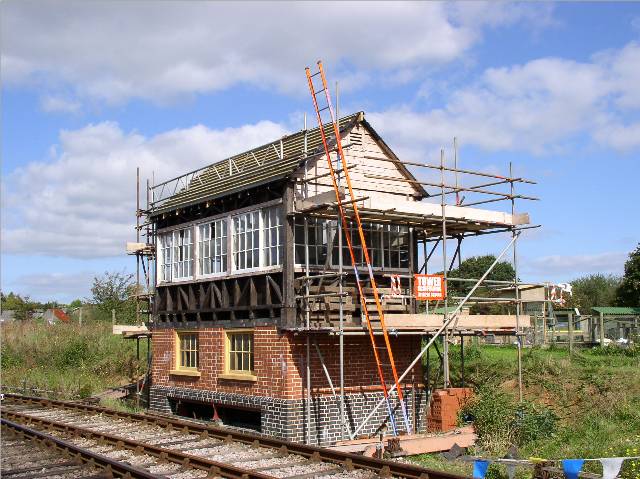 Ashburton Junction Signalbox rises above tracks at Totnes Littlehempston.
"Ashburton Junction Track Layout proposals 2005"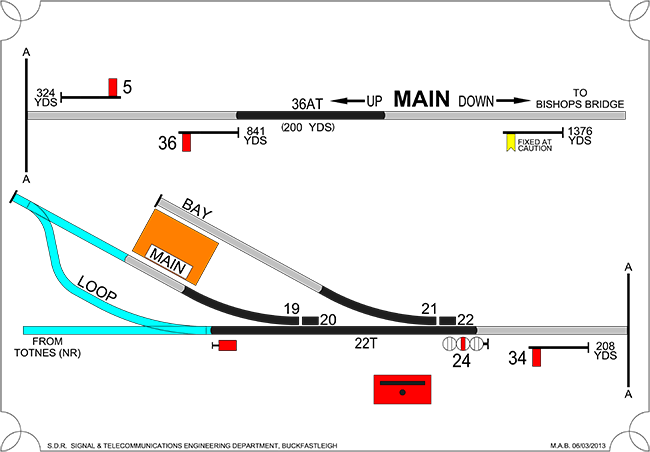 Ashburton Junction layout 2013 – click on image for full size pdf.

N.Perring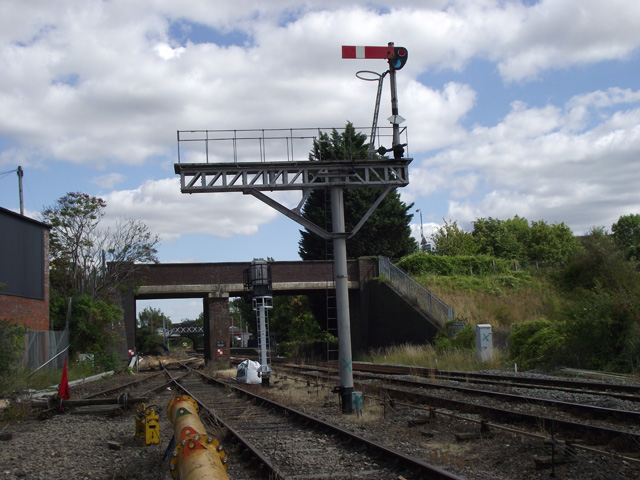 A bracket signal at Evesham in 2011 soon to be at Ashburton Junction.

Photo N.Perring