SOUTH DEVON RAILWAY Transport Gala 2010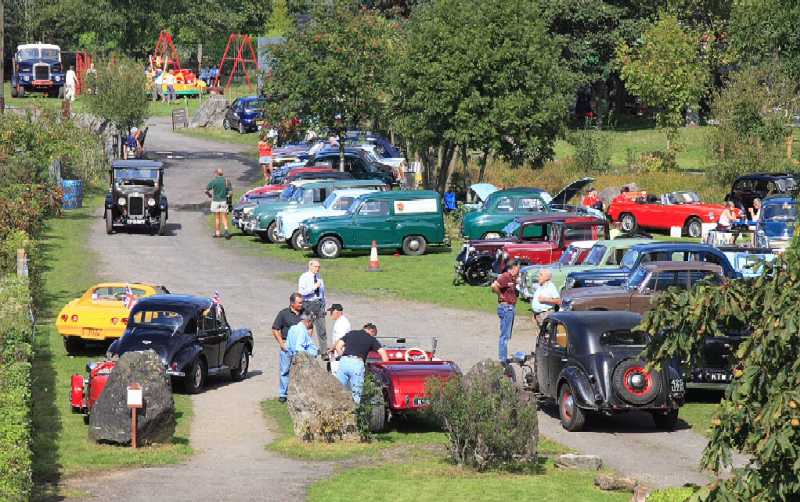 General view of an earlier transport gala
The scenic South Devon Railway is busy gearing itself up for the line's ever popular Heritage Transport Gala to be held over the weekend of 11th and 12th September 2010.
During an action-packed weekend, there will be plenty of interesting things to see and do on the award winning seven-mile line.
At Buckfastleigh, around 100 different transport exhibits will be on show ranging from ancient bicycles, motorcycles and old cars to vintage buses, coaches, vans and lorries.
Outside the station, vintage buses, including a former London Transport Routemaster, will provide the SDR heritage bus service taking visitors on the ride around the town to visit Buckfast Abbey and the time-warp "Valiant Soldier" pub.
A special train service will be in operation on both days with both steam and heritage diesel locomotives in use, whilst other locomotives will be on show at Buckfastleigh. Passenger services usually commence at 09.00 from Buckfastleigh and 09.42 from Totnes each day.
The gala will see the railway operate a number of services representing types of train once seen on many West Country branch lines in years gone by and the visit by loco No. 1450 will allow the South Devon Railway to run more auto fitted trains.
On both days, former Great Western 2-6-2 "Prairie" tank No. 5526 will work a number of services between Buckfastleigh and Staverton with the "Auto Train" Using special controls mounted in a driver's cab at the end of the coach, the locomotive remains at one end of the train and propels the coaches - hence the nickname "push pull" trains.
In addition to the passenger services, there will be a variety of freight and engineers trains in operation. Freight was once a very important commodity on the rails, and in many cases kept the branch lines open as the income generated was far greater than that from passenger ticket sales.
During the Gala, it will be possible to see examples of branch line style goods and milk trains formed of just a few wagons, an engineers ballast train, etc.
Another interesting survivor that will be on display for the event will be Lee Moor loco No.2 along with other interesting memorabilia from the former 4' 6" gauge Devon tramway line.
Refreshments will be available at both Buckfastleigh, from the main refreshment rooms, and at Totnes from the Rare Breeds Centre. The passenger services will also feature on train buffets serving a range of lighter refreshments, snacks and other souvenirs.
Further souvenirs, together with an extensive range of model railway items and equipment, can also be purchased from Expressway Models at Buckfastleigh. The South Devon Railway will be running trains EVERY day until 1 November.
The Devon Diesel Society will be operating its ever-popular Real Ale Bar & Sales Stand in 4805 at the Ashburton end of the Main Set (next to the loco uphill!!!) with a cask of bright-racked ale on sale from 10:00 on Saturday, with a good supply of bottle-conditioned ale should it run out. The ale is called 'Back in Steam' and is brewed by Red Rock Brewery at Bishopsteignton, featuring a picture of 3205.


Please note that these timetables are in Adobe

®

"pdf" format, so you will need the Adobe

®

plug-in to read them. If you haven't got this yet then please click on the Adobe

®

icon above to download it.
(

Please Note the South Devon Railway is not responsible for any damage that may occur by downloading or using third party software

).