June 2005 Diesel Gala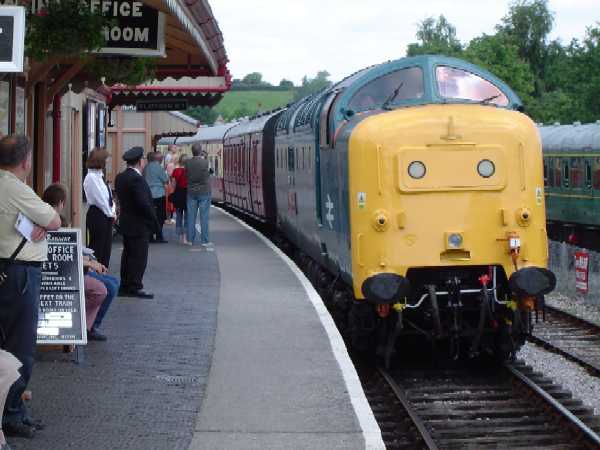 Class 55 Deltic 55019 "Royal Highland Fusilier" enters Totnes Littlehempston

©

John Keohane
Saturday 11th June, Sunday 12th June 2005 saw the annual SDR Diesel Gala "with a whiff of steam" take place and a very successful event it was. Unfortunately the "whiff of steam" became a bit more than a whiff on the Saturday evening and so one of the class 20 diesels had to rescue 5526 from its charter. The engine could have returned to Buckfastleigh under its own power but for safety's sake the 20 was used as pilot engine.
This gala saw three guest locomotives led by a first for a Great Western Branchline of a Class 55 Deltic "Royal Highland Fusilier" 55019 together with two class "20" locomotives, 20096 and 20905, joining the resident SDR operational fleet of 20110, 20118, 37037, D2246 and the class 127 DMU (which was dragged dead).
Also on shew but not yet returned to traffic were class 25 25901, class 33 "Seaking" 33002, class 09 D3666 (09002) class 50 "Superb" 50002 and class 122 DMU 55000 the pioneer "Bubble Car"
This event saw over 1000 passengers travelling during the gala resulting in the longest booking office queue ever seen at Totnes Littlehempston Station.
It had been hoped that our London Transport "Routemaster 1872" 'bus would be providing transport from Totnes National Rail station to Staverton for the first train, however this couldn't be achieved in time but she will be operational for the "in house" Gala 05/06 November 2005.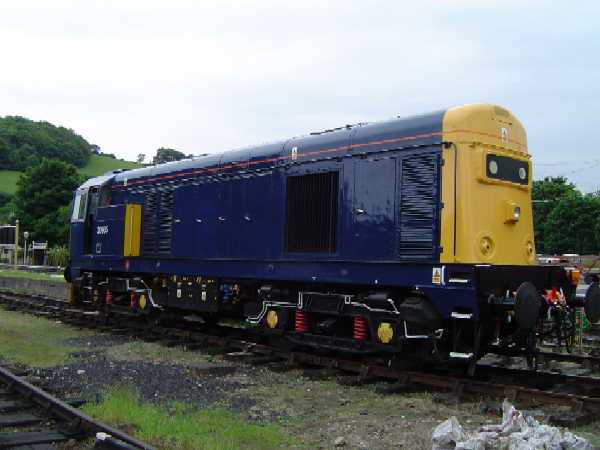 20905 awaiting another duty at Buckfastleigh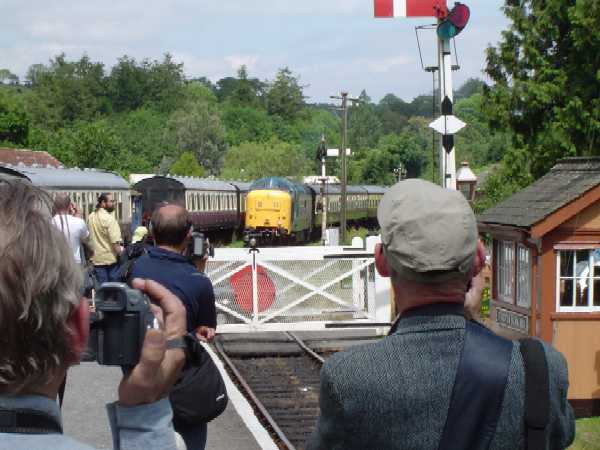 55019 awaiting permission to enter Staverton station to pick up enthusiastic passengers
RM 1872 at its Ipplepen Depot awaiting clearance to join the SDR fleet of Diesels
All Photographs ©John Keohane
For a fuller story and many photographs please look at either the DDS web site Gala report or the SDDT Gala report