Rails and Ales Gala Weekend 2010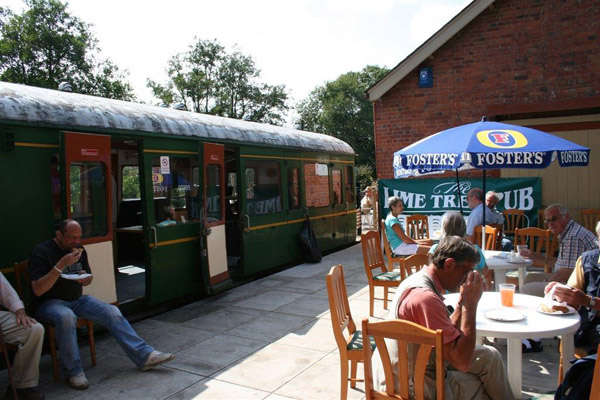 The Beer "Garden" at Staverton station
South Devon Railway is to stage its largest Rails and Ales event to date. The event starts on Friday 27th and then continues over the August Bank Holiday weekend of 28th to 30th August 2010. For opening times see below.
From Saturday through until Bank Holiday Monday, the event will see a special train service in operation on all three days, with extra trains running between Buckfastleigh and Staverton to connect into the Real Ale Festival being held at this idyllic former Great Western Railway country branch line station. Late trains as expected to be run on Friday, Saturday and Sunday.
All passenger trains have access and accommodation for wheelchairs, and all except the auto and railcar services have a buffet service for the main part of the day. At the moment the exact opening times for the buffets is not known.
Staverton, a typical example of an idyllic Great Western country branch line station, is expected to be busier than ever over the three days as this will be the venue for the Real Ale Festival. Run by the Devon Diesel Society, together with the Staverton Preservation Group, the festival will be the sixth so far run at the station. The main bar will be located in the old goods shed adjacent to the main platform, and additional seating will be provided in a coach stabled in the dock platform.
With a wide selection of ales and ciders on offer, there will be variety of tastes, flavours and strengths available with a drink to suit most palates. Some of the local brews will be well known, however others have come from much further afield and are rare in the South West. In keeping with tradition, many of the ales have more unusual names such as Rogers and Hamersteigned, Barebones, or Ansome. Visitors to the bar will also be to order a pint of Cock and Bull, this dark amber beer coming from the Concrete Cow Brewery in Milton Keynes.
In addition to the cask ales and the range of traditional cider on sale there will be soft drinks. Due to the popularity at previous festivals the range of ciders has been increased to provide cider lovers with even more choice.
There will be a range of snacks and other light refreshments. The Station group will also have a variety of hot pasties on sale.
The Real Ale festival will help generate funding for the Devon Diesel Society's ongoing restoration work on its biggest locomotive, 117 ton Class 50 No. D402. Work is well underway to return this former express passenger locomotive to working order, with the locomotive being returned to as near built condition, and for Staverton Preservation Group to continue maintaining their delightful station.
The provisional list of ales and ciders is as follows:
| | | | | | | |
| --- | --- | --- | --- | --- | --- | --- |
| RCH | PG Steam | 3.9% | | Bitter End | Lakeland Gold | 4.3% |
| Black Dog | Whitby Abbey Ale | 3.8% | | Blackwater | Mod | 4.6% |
| Blindmans | Icarus | 4.5% | | Bowman | Swift One | 3.8% |
| Buffy's | Polly's Folly | 4.3% | | Burton Bridge | Battle Brew | 5.0% |
| Celt Experience | Bronze | 4.5% | | Concrete Cow | Cock & Bull | 4.1% |
| Conwy | Shipwreck IPA | 5.0% | | Cumbrian | Dickie Doodle | 3.9% |
| Exe Valley | Rogers & Hammersteined | 4.3% | | Great Orme | Celtica | 4.5% |
| Green Jack | Orange Wheat Beer | 4.2% | | Lees | Game On | 4.2% |
| Loddon | Bamboozle | 4.8% | | Oakleaf | IPA | 5.5% |
| Purple Moose | Snowdonia Ale | 3.6% | | Springhead | Barebones | 4.7% |
| Summerskills | Tamar | 4.3% | | Tring | Maid of the Mill | 4.0% |
| Williams | Midnight Sun Porter | 5.6% | | Wold Top | Bitter | 3.7% |
Ciders:

Crossmans
Medium
6.0%
Hecks
Slack My Gridle
6.0%
Rich's
Medium
6.0%
Thatcher's
Cheddar Valley
6.0%
Westcrost
Janet's jungle Juice
6.0%
Festival Opening Times are as follows:
Friday 27

th

August 14.00 until 23.00
Saturday 28

th

August 11.00 until 23.00
Sunday 29

th

August 11.00 until 23.00
Mondays 30

th

August 11.00 until 18.00
With very limited parking at Staverton, visitors to the Real Ale Festival are being advised to use the frequent train services from both Totnes and Buckfastleigh. Passengers are reminded about the foot connection with the Great Western mainline at Totnes enabling access to the event from further afield such as Plymouth and Exeter.
In addition to the above attractions, the Museum at Buckfastleigh will be open, as will the main workshop viewing gallery, whilst in the grounds at Buckfastleigh the miniature railway will also be operating. The heritage bus service linking Buckfastleigh station with Buckfast Abbey and Buckfastleigh Town will also be running.
Expressway model and gift shop will be open selling a wide range of model railway items and other souvenirs.
Working Timetables for downloading and local printing.