TO IMPROVE AND REPAIR THE INFRASTRUCTURE OF THE SOUTH DEVON RAILWAY.
TO FINANCE GREAT WESTERN STYLE DEVELOPMENTS AND IMPROVEMENTS ON THE SOUTH DEVON RAILWAY.
BACKGROUND
If the SOUTH DEVON RAILWAY is to achieve all that it wants to over the next few years then it is vital that additional funds are raised over and above the surplus generated by the running of the railway and through existing donation schemes .
The Trust's surplus from trading and from donations during 1994 was a little over £35,000. This is very easily swallowed up in funding just a part of all we would like to do in a year. We have also been very successful in raising funds for particular projects - such as the footbridge at Totnes. But we can't go on borrowing money as this must ultimately be repaid.
What we need to do is to accept that in order to indulge our hobby to the full we need to be willing to put more money into it to achieve these goals. We all have pet projects but are all too well aware that a long wait may be on hand before whatever it may be comes to fruition! To this end we have decided to launch a GREAT WESTERN DEVELOPMENT FUND to provide cash towards the various projects.
CAPITAL PROJECTS PAST, PRESENT and FUTURE
Since its launch the fund has so far assisted in the restoration of three of our GWR Locomotives, namely 1420, 5786 and 5526, Only 5786 is presently operational (as L.92) since both 1420 and 5526 are now in need of extensive boiler repairs.
The Great Western locomotives need Great Western coaches to haul. The acquisition of Hawksworth BCK 7377 from the Dart Valley Railway Plc in exchange for a spare Collett 4000 gallon tender was assisted by the fund. Now we have the basis of a complete Great Western set – it just needs restoration. We have Hawksworths 7377 (which is a brake vehicle) and W2180 (which will be a wheelchair enabled buffet), two Collett Excursion coaches 1285 and 1295, as well as a "Toplight" brake 1645 and 6515. This latter vehicle was formerly a Brake Composite but was initially converted for engineering use but was subsequently restored, with help from the fund, as a vehicle with wheelchair carrying facilities for wheelchair bound visitors together with their helpers however this vehicle is now out of service awaiting a full rebuild.
To complement these passenger carrying coaches the railway also has two Super Saloons "King George" and "Duchess of York" which form part of the SDR's prestigious Dining Train.
Members of the SDRA London Group have completed the restoration of GW full brake No 276 which is used annually as Santa's Groto on Santa Specials run each December and are presently working to rebuild W2180. Work has also been completed on the restoration of Auto Coach 225 and 228 but more funds are needed to return Auto Coach 240 to service on the Railway.
Collett Toplight Brake Third 1645 was purchased from the Dean Forest Railway using money from the fund and has been restored to full working order.
Other projects, which will require funding, are the developments around Totnes Littlehempston, here we are serious about our intentions to complete the work to enable trains to depart from platform two including a whole set of sidings and signalling. A signalbox, water tower and water crane have already been errected on site.
All these projects need money and plenty of it. In addition there is a need to have funds available to cover opportunist purchases as and when they come to our notice – items of GWR rolling stock or other equipment.
At the moment we have to look at our bank balance long and hard before accepting any such offers when they occur. Very often we have to say, "Sorry, no, we can't afford it"
Funds are needed to build safe accomodation for our assets to keep the weather out and reduce the rate of deterioration because restoration isn't a one off activity; our locomotives and carriages form part of a living museum and wear out.
ADMINISTRATION
The fund is under the control of the South Devon Railway Trust Board but a committee of senior representatives of the fund made up of Trust Directors and Association Management Committee members meet to agree what projects are funded from the appeal proceeds.
HOW WILL WE RAISE THE MONEY
So, how do we raise the money? We make full use of our Charitable Status and ask you for regular donations by way of Gift Aid. We would like as many members as possible to commit £10 a month by this method. 200 members putting in f10 a month by Gift Aid will provide £30,000 a year. If we can get 500 contributors the amount generated each year would be a staggering: £75,000. A pious hope? Well given time I hope not. If we want 'our' railway to be all the things we dream of then we have no choice but to put our hands in our pockets and pay for it. It is most unlikely that the normal tourist traffic can generate sufficient funds to complete half we would like to see before we reach our dotage. Please think seriously about this appeal and then, if you are able, please complete the enclosed Gift Aid Form and Bankers Order and send it to The SDR Covenants Officer, John Keohane (address etc. under
Contact Us
.
IS £lO PER MONTH TOO MUCH TO ASK?
It is just 33p per day and considering the current cost of a round of drinks, a gallon of petrol, a box of chocolates or a visit to the cinema, 33p is not much to pay towards the realisation of our dreams for the SOUTH DEVON RAILWAY. Not everyone will be able to covenant £10 per month while others will be able to afford more. However, we believe it is a realistic figure to aim for. DO NOT FORGET that for every £10 you Gift Aid, the Inland Revenue will refund to the SOUTH DEVON RAILWAY £2.82p per month!
You can also make a one off donation of £10 to the Foundation Fund by SMS from your mobile phone, just text SDRT01 £10 to 70070.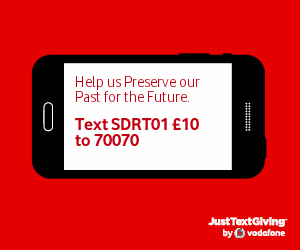 BENEFITS
The intention to have a club room at Buckfastleigh for fund members and guests is under serious consideration but this needs to be funded from outside the Appeal Fund. Contributors who pay £10 per month or more and who are not already SDRA members will automatically become members and receive 'Bulliver' on a quarterly basis. Contributors will be entitled to unlimited free travel on the South Devon Railway for themselves and a guest for the duration of their contributions. Contributors will receive a medallion pass based on the original South Devon Railway seal.
INFORMATION ON Gift Aid
WHAT IS A Gift Aid
Gift Aid is a legal agreement between you and the SOUTH DEVON RAILWAY TRUST. It allows the Trust to claim from the Inland Revenue the tax you paid on the money you give to the Trust, This bonus is allowed by the Government because the SOUTH DEVON RAILWAY TRUST is a Registered Charity.
ARE THERE ANY SNAGS?
None at all providing you or your spouse pay income tax. Other than the donation itself, Gift Aid costs you nothing but benefits the Trust
HOW LONG DOES GIFT AID RUN FOR?
It has no time limit under current legislation. However, it is proposed that donors to the: DEVELOPMENT FUND make a donation for five years at the outset on a regular monthly basis or donate a lump sum.
CAN I GIFT AID ANY AMOUNT?
Yes. As long as you or your spouse pay tax there is no limit on the amount that can be donated. Obviously the greater the amount you covenant, the greater the bonus to the Trust in tax rebates.
HOW CAN I PAY ?
By monthly, quarterly or annual Banker's Order or PayPal, whichever you prefer.
WHAT IS THE EFFECT ON HIGHER RATE TAX PAYERS?
You will receive relief on your donations at the highest rate of tax you pay. This means that the Trust claims the basic rate of tax but you will receive the difference between the basic rate and the highest you pay. You could covenant this difference without it costing you any more or pass the refund to the Trust! For further information please contact the Development Fund Administrator.
OTHER WAYS TO HELP FINANCIALLY
CAN I PAY A LUMP SUM
Yes There may be some supporters who would prefer to pay a lump sum now rather than sixty monthly instalments.Just complete the same Gift Aid form and enclose your lump sum..
HOW ELSE CAN YOU HELP?
There are other practical ways in which you can help to ensure the Railway's future. Volunteering – This is a very important way in which to help the Railway, whether it is by using a paintbrush, serving in the shop, helping with the trackwork, manning the stations or training to be a guard, fireman, signalman or, the ultimate boy's dream, becoming a driver. If you wish to volunteer please let us know.
Other donations - Any donations, be it items of use to the operating of the railway, railwayana items to add to the overall ambience of the railway or just railway books and magazines for resale in our shop are all gratefully received.
Legacies - When someone leaves money or railway items to the Railway, the Trust benefits enormously. If you are able, please include the South Devon Railway Trust when you list the bequests you wish to make in your will. A Solicitor will be able to advise you if necessary.
If you need any further information about covenants, gift-aid or the South Devon Railway itself, please contact the Fund Administrator or the General Manager of the South Devon Railway.
COMPLETING THE GIFT AID & BANKERS ORDER FORM's
Please complete the form's carefully. The figure you pay in total annually does not need to be entered on the form (unless you are making a one off donation) The frequency and amount of your payment is the figure required on the Standing Order form


Please note that all these documents are in Adobe

®

"pdf" format, so you will need the Adobe

®

plug-in to read them. If you haven't got this yet then please click on the Adobe

®

icon above to download it.
(

The South Devon Railway is not responsible for any damage that may occur by downloading or using third party software

).


The South Devon Railway reserves the right to change train services without notice.




*

Opens in a new window.